American Rapper, Cardi B is currently trending at the number 1 spot on social media and it is due to the content that is on her IG story.
The mother-of-one has been in Nigeria for about 72-hours and she's totally loving it. She's really having alot of fun and screaming to the world on her social media to 'come to Nigeria and have fun'.
This morning, her IG story is trending for alot of reasons largely due to the fact that she was at a Lagos strip club last night.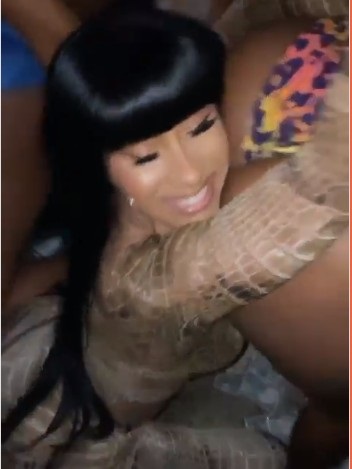 The rapper was seen spraying bills off N200 notes on strippers last night.
Nigerians have now taken to their twitter accounts to react to her strip club videos and it is quite hilarious.
See below ;
Bam_mide wrote ;
You can't go to #TheExperience14 last night and still go check cardi b's ig story this morning. You'll have problem with God ???
Dreylo wrote ;
After Dancing to Chioma Jesus, Sinach and listening to preaching last night you're now on Cardi B's IG story looking at big booty ? I'm on this table too sha. God said we should not lie
Garuf wrote ;
Y'all are hypocrites in this country! Enjoy Cardi B's IG story with remorse if you ever crucified these people.
CHi wrote ;
Married man with two kids finds his wife shaking ass on Cardi b's IG story….
Well what is her looking for on her story sef..
Men are scum
Omalicha wrote ;
I just came from Cardi B's IG stories and I'm MF high, wet and dizzy all at once. Y'all I ain't seen this kinda party hard in Lagos before. Shit is LIT
Cardi B's IG story is the best thing to watch right now

She's so hyped about Nigeria ???? pic.twitter.com/asdYTtcD0o

— JAGS (@EtniesJags) December 7, 2019