Earlier today, a video footage obtained by Daily Nigerian, purportedly shows Kano State governor, Umar Ganduje receiving bribe in dollars.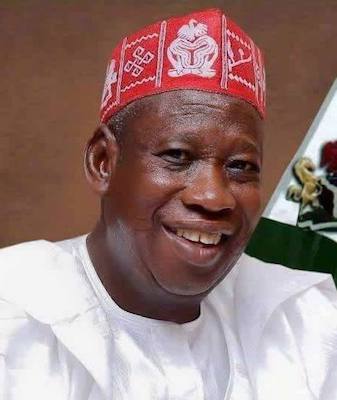 As a result of the video hitting the internet, the governor has become the number one trending topic on social media in Nigeria with Nigerians having a field day trolling and bashing him.
In the video, the governor is seen collecting wads of 100 dollar bills as he stacks some up on the floor and others into his regalia.
See some social media reactions below,
We now know why Kano Governor, @GovUmarGanduje, likes very big Agbada and baban riga. It is for 'banking' purposes. Farouk Lawan used cap banking, while Ganduje prefers agbada banking. No wonder they fought President Jonathan for introducing the cashless policy #RenosDarts

— Reno Omokri (@renoomokri) October 14, 2018
Ganduje will say the video was doctored, that he was not receiving a bribe, he would campaign for Buhari, finish his term as governor, go to the Senate & the people of Kano will move on. It is just how we roll here.

— Babanla (@biolakazeem) October 14, 2018
The #Ganduje video doesn't prove a bribe was received, merely that he collected Dollars.

$ received could have been:
Proceeds from a successful & legitimate business transaction
Repayment of a loan
A Naira to Dollar FX Conversion

Till audio is provided, we can only speculate.

— Mr. Aye Dee (@MrAyeDee) October 14, 2018
That Ganduje video is very sad. How can Nigeria progress like this? Some people will still try to defend this.

— World Publicist (@IsimaOdeh) October 14, 2018
Either way, the right thing to do with this #Ganduje case is for the Kano House of Assembly, the @officialEFCC and the @PoliceNG to commence separate investigations to ensure the money exchanged was for legitimate purposes.

— Mr. Aye Dee (@MrAyeDee) October 14, 2018
If watching Ganduje pocket your children's future in form of $5m, isn't enough reason for you to want to partake in politics or leave Nigeria, nothing will be ! pic.twitter.com/DVjWBNTJhT

— Oladipupo Oriire (@Orire_) October 14, 2018
Who was responsible for the soundtrack in that Ganduje video? Made the governor look like ciroki collecting money to marry off his daughter to the rich man she doesn't like

— Ibrahim (@theMaskedCzar) October 14, 2018
This Gov Ganduje's bribe issue is a real test on President @Mbuhari's fight against corruption. Is it a real one or the administration have been lying all along,we watch on 👀

— Muhammadu Tijjani (@Byniass) October 14, 2018
EFCC should track down and arrest the tailor who made Ganduje's Babbar Riga…he made it on purpose 😏.

— Mukhtar Yusuf Ilu (@ilumuktar) October 14, 2018
let's us be real. Ganduje no any silver bullet will stop him from been impeach or come back for his second term.

— [email protected] (@kayanmarmari) October 14, 2018
Quick calculation.
$1= #365 (as at Friday, 12/10/18)
$5M x #365 = #1,825,000,000

This is what Ganduje sitting Gov of Kano state collected as bribe under Pres., #Buhari who claimed to be fighting corruption.#GodHelps9ja@APCNigeria @cnni @SaharaReporters @Gidi_Traffic @BBCNews

— Oni Samson (@Shameh_NG) October 14, 2018
Ganduje go soon say that the video was doctored..

— Juggernaut Maniac (@EldaRicardo) October 14, 2018
Do have an idea his exchange rates cos what I'm seeing on Lagos is N359. If Ganduje can do 355, I won't going to kano https://t.co/5fpu8nR23K

— NANA (@ppanda_23) October 14, 2018
Ganduje after his video went viral…..they didnt caught me#ObaMemes pic.twitter.com/3dlHXGK3eb

— chimaobi (@spydahking) October 14, 2018
Me after watching the video of Ganduje collecting $5m bribe from contractor pic.twitter.com/aGhvSIrFKF

— Ariwoola olaide🇳🇬 (@onlyoneadatos) October 14, 2018
It took the @officialEFCC less than 15mins to put up a silly and unprofessional tweet dissing Governor Ayodele Fayose after his candidate lost the Ekiti election, but are feigning blind, deaf & dumb on this Abdullahi Ganduje 5,000,000 USD bribery scandal. #GandujeGate

— Wilson Shadrach 🇳🇬 (@iam_wilsons) October 14, 2018