A Nigerian lady has stirred mixed reactions after she revealed she's obsessed with her brother.
The lady, identified as @cindyarinze, took to her TikTok page to share a "loved-up" video with her brother and boldly proclaimed her obsession with him.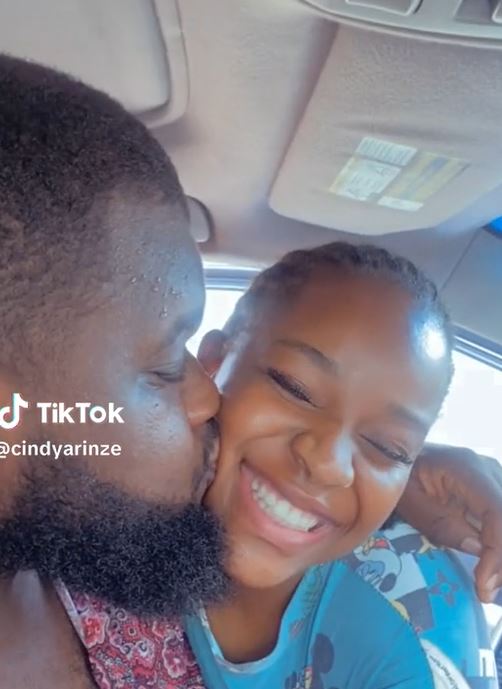 In the video, she is seen affectionately hugging her brother, who is seated in a car, as he reciprocates with a kiss on her cheek.
In her caption, she jokingly asked if there are other people who share a similar obsession with their brothers.
"Am I the only one obsessed with my brother? I need a DNA test to assure me he's not my brother," she wrote.
Watch video below,
In other news, reality TV star, Uriel Oputa, has lashed out at a troll who said her body is too loose despite all the exercise she has been doing.
The fitness enthusiast had taken to her Instagram page to share a lovely video of herself when the troll made the snide and insensitive remark about her body.
"Upon all the exercises you body is not still firm. You just loose weight but your body too loose", the troll wrote.
This seemingly infuriated Uriel who fired back at the troll. She shared a screenshot of the comment, and clarified that her body is 100% natural without any surgical enhancement.
The former Big Brother Naija star went on to say that she is proud of her 'jiggly natural body'.
Uriel wrote, "THIS IS A NATURAL BODY. DON'T LET EDITING AND ALL SORTS DECEIVE YOU I'M PROUD OF MY JIGGLY NATURAL BODY. If you think it's Easy. Run am. My beautiful Queens and Kings this is the perfect example of trying to feed spoilt Rice to a Queen (You can't try it).
Just imagine someone took time to write this (Depression is real) instead of acknowledging the (20,0000 people that have subscribed to my meal plans, They decided to mock.. You can't mock someone wey don pack her mama mess for years. I love my body".