Nollywood actress, Biodun Okeowo popularly known as Omoborty is one of those celebrities who didn't have things easy before they plunged into the limelight.

The single mother of two who has over the years grown thick skin to shrug off criticisms of different sorts, says she is elated that those who didn't believe in her dream some years back are now trying so hard to be in her good books.
"I believe in hard work. Keep grinding, one day the people that don't even believe in you will tell everyone how they met you. Don't just relent keep pushing. I was once a plantain hawker. I didn't allow my past determine my future. My haters are at my back they are likened to my problems which are also at my back but Holy Ghost is solely behind me," she noted.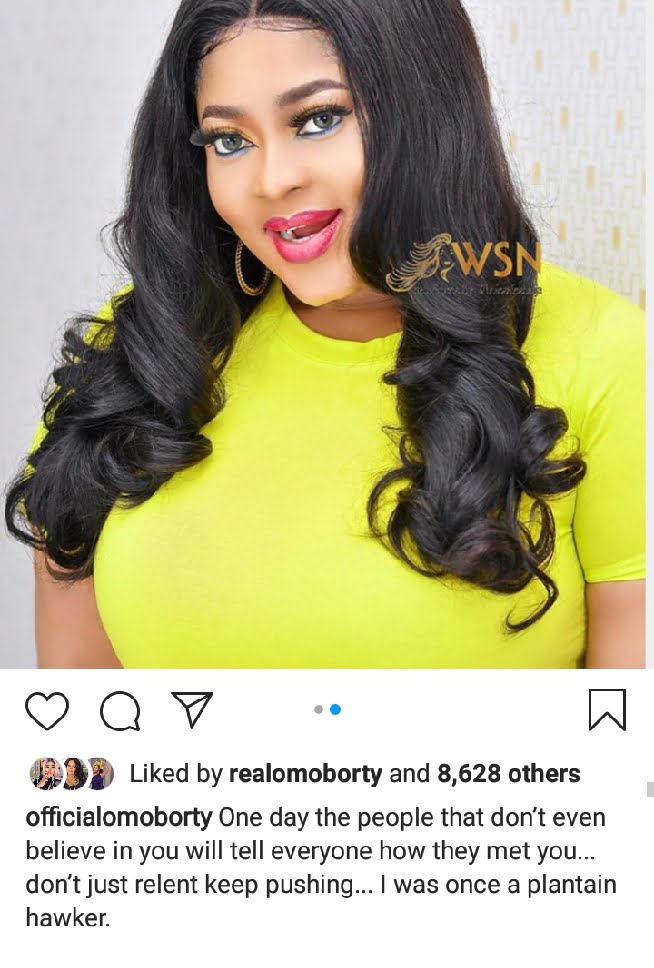 Talking on how she copes with negative comments on her social media page, especially on Instagram the curvaceous movie star shared that she's an advocate of freedom of dressing.
"I'm a very free and playful person but I think there's this mentality that Nigerians have about dressing. They believe you can't dress the way you like. But I'm an advocate of dress in whatever way that makes you comfortable. I don't look at anybody. As for trolls going through the pains of opening fake pages to troll me, I'll advise you, please use your time constructively. Instagram is a store no one is paying rent for. Smart people are cashing out big time doing businesses, showbiz, talent discoveries and lots more, so try make your own time worth the while. As for me o, zillions of your fake pages can't stop me from doing me. The more you troll the more I churn out sexy pictures. I want them to get used to seeing me as I am or keep wasting their time. The people that matters in my life ain't complaining, so keep they can keep their opinions to themselves".