A Nigerian man on the popular micro-blogging platform, Twitter, has opined that only a woman who was married as a virgin has the right to demand that her husband remain faithful to her.
According to the man identified as John Doe, women who entered marriage with multiple body counts and even slept with married men should not demand loyalty from their spouse.
He claimed that these women marry in the expectation of finding a safe haven.

"Only a woman that met & married her husband as a Virgin, has right to demand that he remains faithful to her. Some of you entered your marriage with multiple body counts to the extent that you slept with married men. You thought your marriage was a safe "haven" for you?" He tweeted.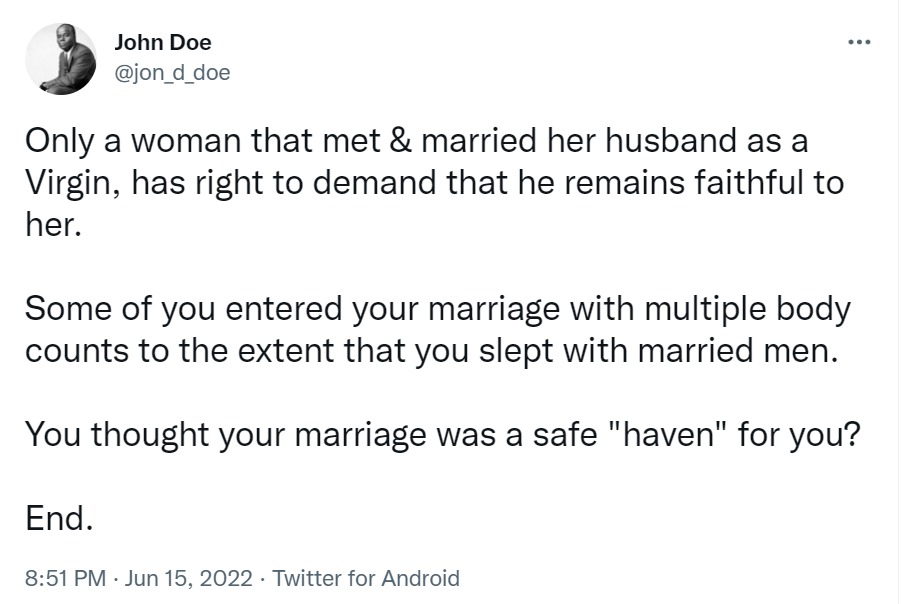 John Doe's tweet sparked outrage, especially from women, and stirred varying reactions from netizens on the micro-blogging platform.
A Twitter user @Joan_Ify7 wrote,
"What of males with multiple body counts that has slept with married women too, e.g, those male youth corpers that sleep with married female corpers?
There should be a balance".
@FrancisUdeoji,
"The problem is that woman compair themselves to men And that's why they keep feeling the heat of their own consequences Eg. When Adam and eve committed there given a different punishment".
@NedZeon,
"Women own and control the availability of sex, women have the monopoly on sex and there's no man that will turn down a discount offer unless he has a better offer somewhere else. A man can only bargain, women set the price, so it's on them not men."