The Principal of Bethlehem Girls College, Rev. Sr Henrietta Alokha has died. She was one of the victims of the explosion witnessed today in the Abule Ado community of Lagos State.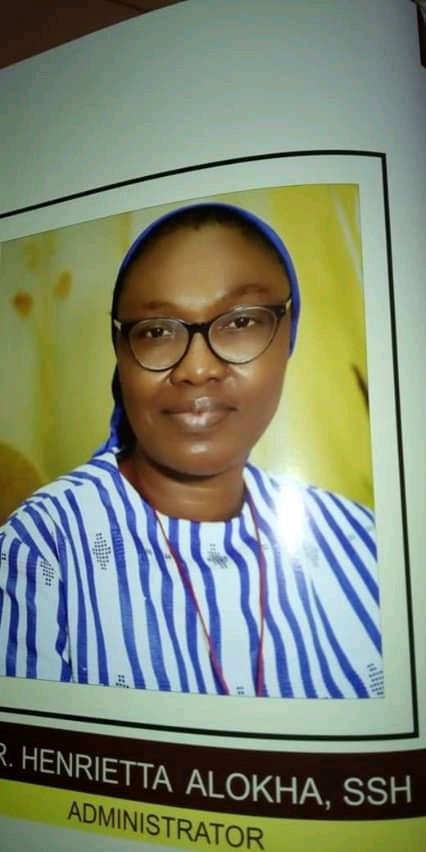 Rev. Sr Henrietta Alokha who worked hard to rescue some students trapped in the boarding school under her care, died after the roof of the educational facility fell on her.
The late principal is the younger sister of WB Anselm Alokha.

Here are some tweets on her demise below;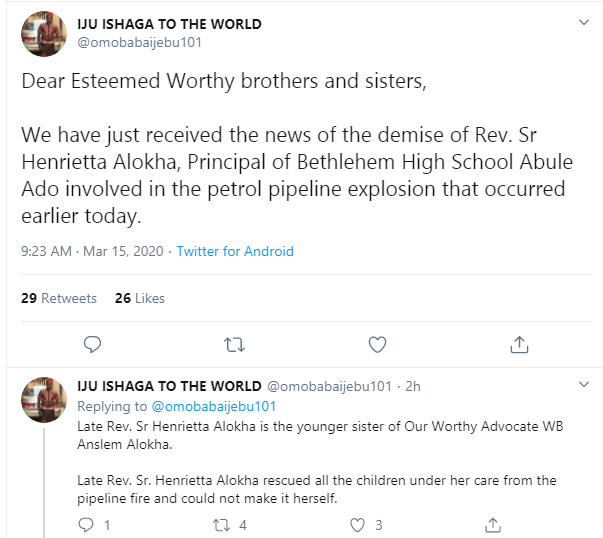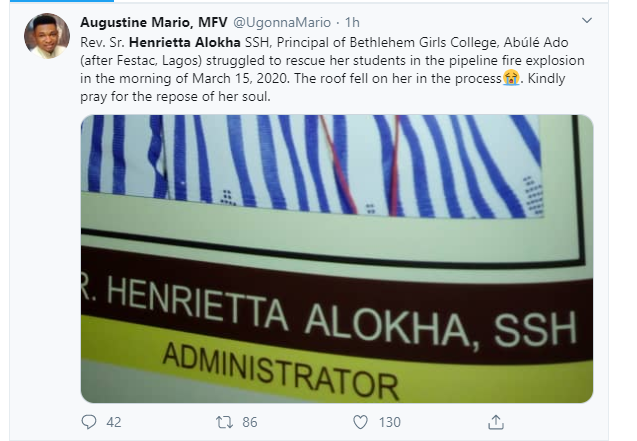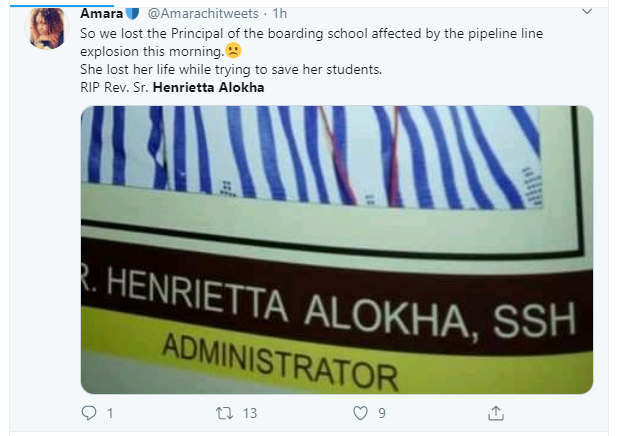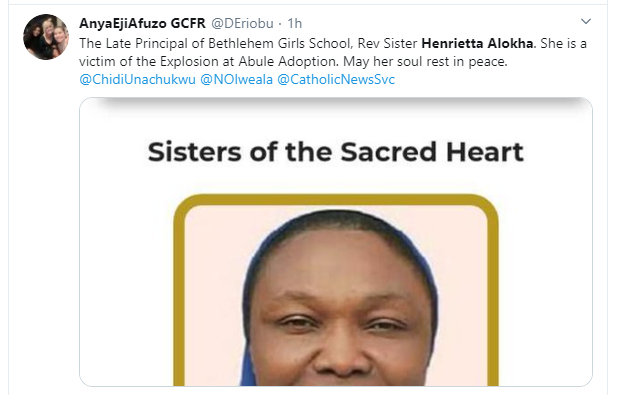 In a statement signed by Bro Vincent Iwueze, Alokha rescued all the children under her care from the fire but could not make it herself.
The statement reads, "We have just received the news of the demise of Rev. Sr Henrietta Alokha, Principal of Bethlehem High School Abule Ado involved in the petrol pipeline explosion that occurred earlier today. Late Rev. Sr Henrietta Alokha is the younger sister of Our Worthy Advocate WB Anslem Alokha.
"Late Rev. Sr. Henrietta Alokha rescued all the children under her care from the pipeline fire and could not make it herself.
"May her soul and the souls of the faithful departed through the mercy of God Rest In Peace, Amen."
NAN reported that at least 60 students who were rescued were taken to the Nigerian Navy Reference Hospital at nearby Satellite town, for treatment.
The Nigerian National Petroleum Corporation (NNPC) said a truck which hit gas cylinders around the corporation's pipeline right of way triggered the explosion.
Many houses were destroyed while vehicles got damaged in the explosion which reverberated across Nigeria's most populous city.
Residents and witnesses counter their losses. At the headquarters of the Lagos province 3 of the Redeemed Church of God (RCCG) located on 24 Road, Festac town, the explosion which occurred more than a kilometre away from the church premises, shattered glass windows, injuring worshippers.
A parish of the First Baptist Church near the RCCG parish also lost a part of its roof. The roof of a parish of the Living Faith Church (Winners Chapel) located at 7th avenue, Festac, was also blown off in addition to that of the Ark Parish of the RCCG at first avenue.
The Odic Plaza, a motor parts mall and warehouse, Bush Bar Hotel, Green Horse Plaza which houses tyres, Arch Angel Catholic Church, Chino Plaza with many goods in it, and a mechanic village, all located inside the Trade Fair Complex, Ojo, were all hit by the explosion.