Julia Nwoko, the eldest daughter of Nigerian billionaire and politician Ned Nwoko, is expecting her first child with her partner.
Julia, who is the daughter of Ned Nwoko and his first wife Barrister Lilly Nwoko, announced her pregnancy on her Instagram page on Wednesday, June 21, 2023.

She shared beautiful maternity photos, featuring her posing with her husband, Prince Ojuola, while cradling her growing baby bump.
In the caption of the post, Julia Nwoko hinted to her fans that she is expecting a baby girl, saying, "A Princess is loading."
Excitement and warm wishes flooded the comment section of her post as friends, family, and followers expressed their joy and sent prayers for a safe delivery.
See photos below,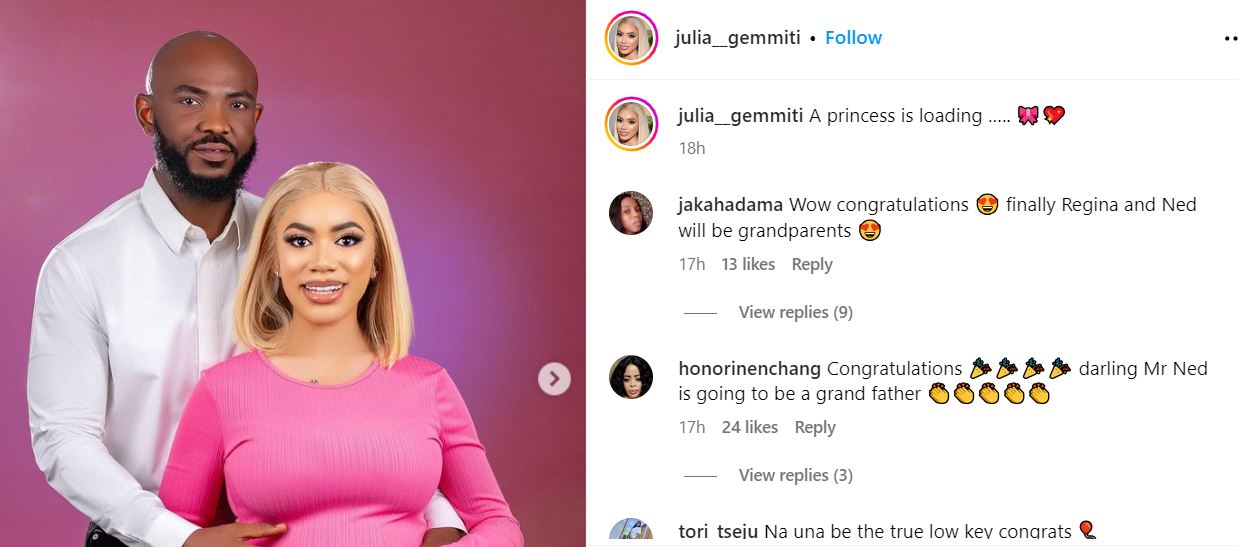 In other news, sensational Nigerian singer, Simisola Kosoko, popularly known as Simi, has revealed that she has never experienced heartbreak in a relationship.
The mother of one made this disclosure during a recent interview with reality star turned on-air personality, Tacha, on Cool FM in Lagos.
According to Simi, who is married to Afrobeats superstar Adekunle Gold, her heartbreak songs are not inspired by personal experiences since she has never gone through heartbreak herself.
On her latest heartbreak song, 'Stranger,' Simi jokingly emphasized that perhaps the reason she can create relatable music is because she is a champion for those who are heartbroken.
"I don't think I have ever been heartbroken. I don't know, that song ['Stranger'] came to me very easily. I guess, maybe I'm just a champion for people that have taken breakfasts [heartbroken] severally [laughs].
"I'm here for them. I mean, somebody has to be. And I remembered that I was thinking; I like love a lot, I think about love a lot. And I felt like one angle that I probably haven't explored like that is… You know, like you are in a relationship, they have not given you breakfast yet but you just feel like you've changed so much and you are doing things, accepting things or adapting to things that normally you would never would. And then one day, you look at yourself in the mirror, and you are like, I don't know that person.
"I feel like that was the perspective that would be nice to sing about or write about. That is going on in my feelings as well. And I feel like people would be able to relate with it, especially people that are currently going through a heartbreak." She said.