Popular Nigerian singer, Ric Hassani has publicly apologized over a tweet he made about his colleagues in the entertainment industry.
Ric had taken to Twitter after Burna Boy's stellar performance at the Madison Square Garden in New York to praise him, while seemingly belittling his other colleagues in the process.
"I hope everyone has seen Burna's MSG performance and I hope that becomes the standard."
No more nonsenses and mimings and yellings on stage please," he tweeted.
See the controversial tweet below,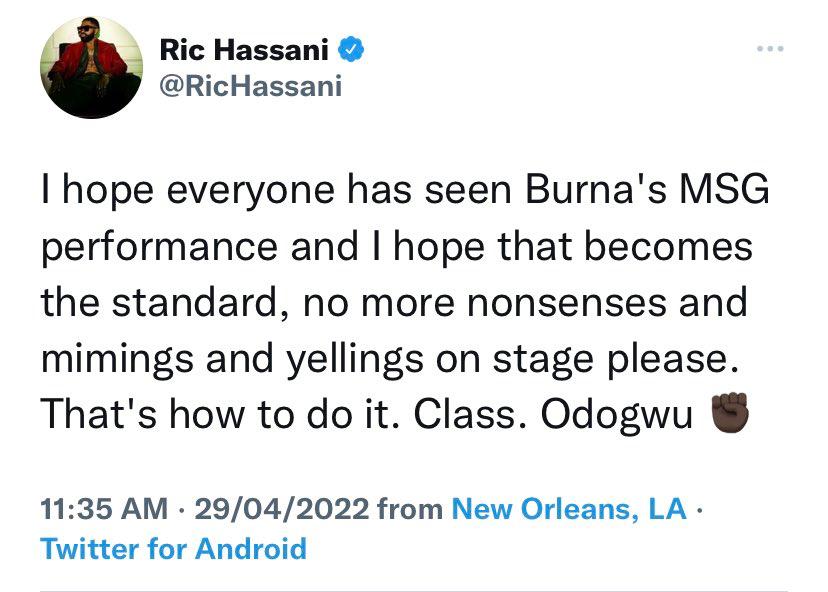 The tweet didn't sit well with a lot of people and they dragged him to shreds for shading his colleagues, while stating that he could have hailed Burna Boy without putting anyone down.
The "Gentleman" and "Thunder Fire You" has now put out a tweet to apologize to those who felt offended by his initial tweet.

He also admitted that he could have passed his message in a way that would not make his colleagues feel attacked.
Taking to Twitter on Sunday, May 1st, the 33-year-old wrote,
"Okay, I took a moment to catch my breathe. I understand those offended, I apologise. I could have passed the message in a better way. Love, always love."
See his tweet below,