A Kenyan woman, identified as Josephine Achary Akongo, has recounted how her ex-husband's parents sent her packing for not bearing children.
Josephine, who hails from Ahero Kisumu County, Nyando sub-county, narrated her ordeal in a recent interview with Standard Media.
According to her, she was kicked out of the house due to her inability to conceive for her husband, and he proceeded to marry a second wife in 2014. Unfortunately, his second wife has also been unable to have children since they got married nine years ago.
Josephine further revealed that she had a child while still in school and before marrying her ex-husband.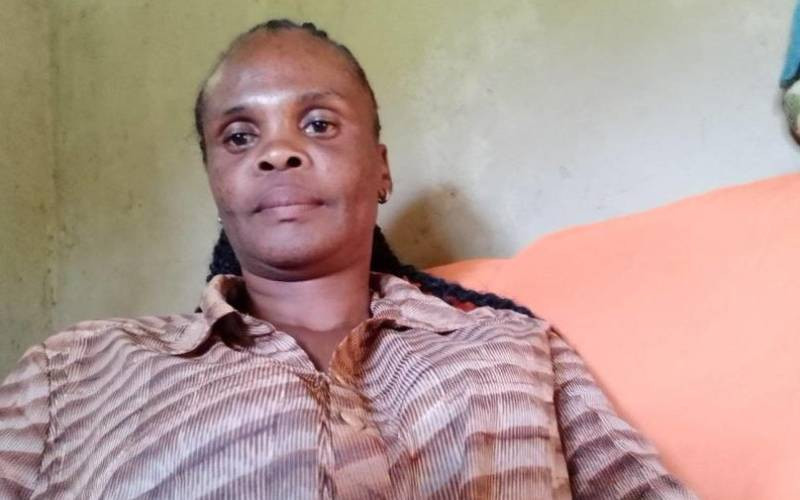 "I didn't find it easy after realizing that I was pregnant. It was funny because some visitors came to our place to bring dowry for my cousin, and as girls, we were invited to entertain them. That's how I got involved with a guy for just one night, and that's how I conceived. Unfortunately, the guy disappeared afterward," she said.

"I learned in day school, but I spent most of my time outside the school due to frequent illness. Eventually, my mother discovered what was happening and she was constantly reminding me of how I had wasted her hard-earned money.

"In school, students disapproved of me and often laughed at me. During that time, getting pregnant was considered taboo. However, despite being in Form Four, I persevered and managed to sit my national exams, though I didn't perform as well as expected. It was far from an easy experience,"

"I met my first husband in our estate in Kisumu, and we began courting. However, our courtship didn't last for even a year before we started cohabiting. I went to visit him at his workplace in Eldoret, at Keiyo South Constituency, and I never returned home because he told me we were now living as husband and wife. I informed my family, and he informed his, and we started our life together as a couple,"
Speaking on how her husband and in-laws reacted to her inability to have a child, she said,
"My mother-in-law didn't like me from the very first day. Despite this, everything seemed to be going well after we got married in January 2006, until 2013 when I decided to stay at my in-laws' home,"

"My husband had started working in Migori, not far from our home. The struggle of not being able to have a child began immediately after moving in with my mother-in-law in the same compound.

"I tried to ignore their comments and advice, but they persisted and eventually urged their son to marry another woman and have children of his own. He secretly married another woman, and when I found out and confronted him, he blatantly told me that he wanted children who would inherit his modest wealth. The fight continued as he lived with his second wife at his workplace while I lived alone at home.

"He neither came home nor sent money. One day, his father called me and demanded that I leave their compound. I stood my ground, reminding him that it was his son who brought me there, and therefore, he should be the one to chase me away. After some arrangements, my husband and his second wife came and told me to leave immediately. I packed my belongings and my daughter and left peacefully.
The mother of one said she suffered a great deal after she was sent out of her husband's house.
"Initially, I struggled without a reliable source of income, especially with a daughter to take care of, considering she was in a private school. My daughter excelled in her KCPE exams and received a sponsorship from Equity. Fortunately, she also passed her Form Four exams with a clean A and secured a place at Nairobi University, still under the Equity scholarship. Before joining campus, Equity provided her with an opportunity to work at their banks, which enabled her to earn a good income and support us."
According to Josephine, her ex-husband and in-laws now want her back after seeing her daughter's academic success.
"My ex-husband and his family want us to reconcile because things haven't been going well for him since I left. They have started to see the success my daughter and I have achieved despite the challenges we faced. They realise that their initial doubts about my daughter's education due to financial constraints were unfounded, as she is now nearing completion of her studies at the university. Interestingly, my ex-husband has been unable to have any children with the second wife he married in 2014."
Speaking on what she learned from this ordeal, she said:
"I want people to understand that patience pays off and that one shouldn't destroy their marriage solely because of the inability to conceive. God's timing is always the best. Additionally, women should strive to work hard and be responsible."