Nigerian bad girl, Maheeda seems to have drawn a line in the sand, igniting a new beef with pornstar, Afrocandy.
In a recent interview with HipTV, the controversial nudist who is currently visiting Nigeria with her Dutch husband, noted that often times people have tried to draw a comparison between her and the pornstar, and she disagrees with them because she thinks she is classier than Afrocandy.
"I don't want to be disrespectful because she is older than me," said Maheeda in the interview, adding that her fans think she is the 'baddest girl in Nigeria. The one and only'.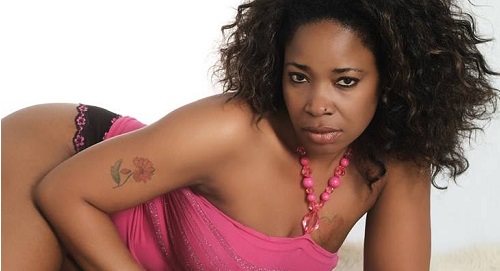 Afrocandy rose to limelight after she starred in self-produced adult movies and over the years, the US-based actress has taken her wares to Instagram where she frequently shares explicit photos, earning a notoriety very similar to Maheeda's.
However, unlike Maheeda who thrives as a nudist with a strong business sense, Afrocandy does her affairs mostly for fun.
Now, Maheeda clarifies that she is not on the same level with the pornstar. When she was asked if she can star in a porn movie like Afrocandy, Maheeda said,
"No, I won't do a porn movie. Nobody can pay me because I don't see myself doing it anyway."