Veteran Fuji maestro, Wasiu Ayinde Marshal, popularly known as Kwam 1, has finally reacted after being dragged for refusing a public display of affection from his wife, Emmanuella.
A video of the musician refusing his wife when she tried to kiss him during his surprise birthday party, which she planned, recently went viral and caused a stir online.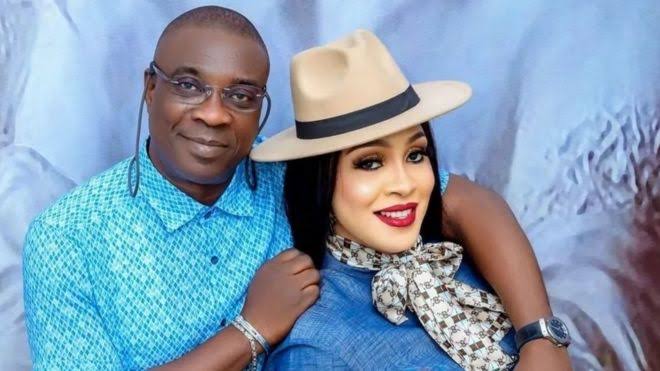 In the video, Emmanuella is seen attempting to kiss her husband on the lips, but Kwam 1 refused.
The clip elicited mixed reactions from netizens, who claimed Kwam 1's refusal to kiss his beautiful wife at the event was embarrassing. Some even went as far as suggesting that all was not well in their home.
Finally reacting in a statement released on Tuesday, the singer dispelled rumors of trouble in his marriage.
According to Kwam 1 in the statement signed on his behalf by one of his band members, Kunle Rasheed, rumors of problems in his home were fabricated by haters.
The statement reads;
"Our attention has been drawn yet again to another rounds of unofficial and unreliable piece of information that the Mayegun of Yorubaland, K1 de Ultimate is not in love with his darling wife hence the rejection of her kiss at his surprise birthday gig held at Radisson Blu over the weekend.

"These rumour mongers have turned what ordinary was inconsequential to something they feel in their delusion, they should celebrate and spread for a gain we do not understand.

"It is rather unfortunate that these rumour spinners who thrive only in negativity should be able to see through their hate that love indeed has found a place to stay permanently in the couple's hearts.

"Rasheed said K1 and Emmanuella love each other dearly and this should be understood by those who are waiting to rejoice at any bad news about the couple.

"Many of these gossips believe that the union will not work are in perpetual agony when they see the marriage flourishing. It engulfs them with sadness and pain so much that their daily activities is to shop endlessly for ways to transfer their unhappy mode to a couple who is constantly enjoying the bliss of their union.

Signed: Kunle Rasheed
(for K1 de Ultimate band)"