Nigerian singer-songwriter, Seyi Shay has flaunted her growing baby bump in a new TikTok dance video.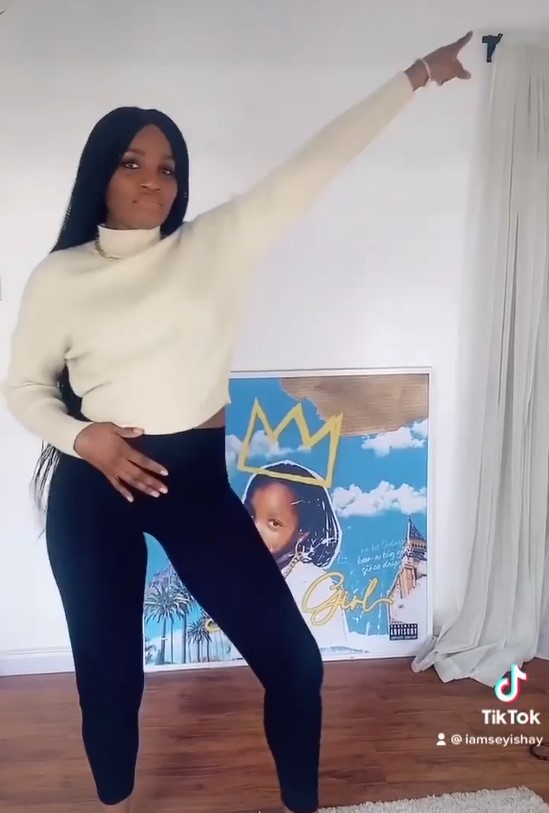 The singer donned a cashwool sweater and a black leggings while engaging in the dance video, where flashed her baby bump several times.
Watch her video,
Some months ago, the songstress finally addressed the heated altercation she had with colleague, Tiwa Savage at a salon in Lagos months ago.
In June of 2021, a video surfaced online showing Tiwa Savage and Seyi Shay having a heated verbal altercation. Tiwa accused Seyi of having a "dirty and disgusting" spirit and she warned Seyi to stay clear off her path.
At the time Seyi stated that in her bid to make peace, she decided to go say "hi" to Tiwa when they met at the salon, and she responded well. However, she was shocked when Tiwa came to meet her some 20 minutes later and told her never to greet her in public anymore.
Speaking about the big fight in a chat with media personality, Chude Jideonwo, Seyi stated that if not for time that has changed her, the fight would have turned out differently than it did.
In her words,
"Guess what? If I had not spent a good couple of years finding my center, my peace, bringing myself up to a different vibration, praying and fasting, sitting my ass in the studio pouring out my heart, trust me the outcome (with Tiwa Savage) would have been very different".