Popular Nigerian Lawyer, Adetola has opined that some people become wealthy and successful by sheer luck, not as a result of hard work.

Adetola, in a post he shared on his official Twitter page, stated that people undermine the role chance plays in people's life.
Speaking further, he asserted that people are not always poor because of laziness either, because other factors like chance affect the way people's life turn out.
Adetola tweeted,
"Not all wealth and success is the direct result of hard work. Chance has a huge role to play in how people's lives turn out. Poverty is not always due to laziness either. Too many people underestimate the randomness of chance in how people's lives turn out."
See his tweet below,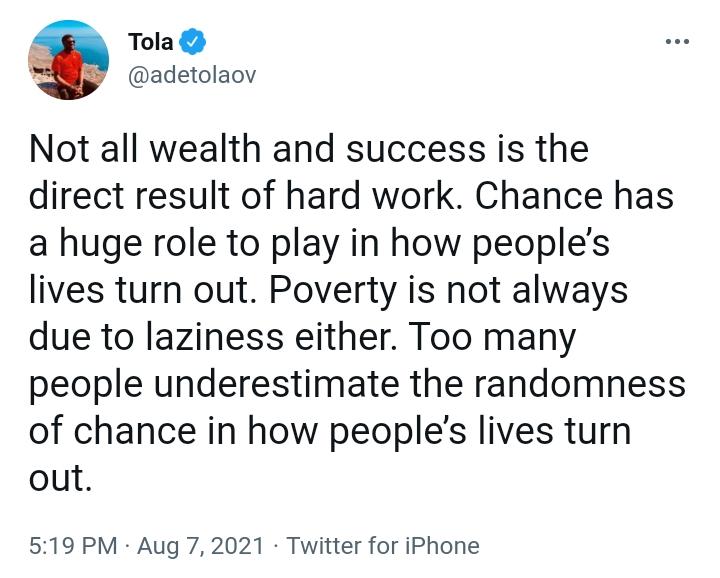 Adetola's post has sparked a debate on social media as some netizens argue that it is by GRACE, not CHANCE.
See some comments below,
nene_george said, "Don't say it's by chance, it's just Grace. Grace will take you to places where hustling can't 👏👏👏
domingo_losso wrote, "Some people meet the right people at the right time and boooom, life changes forever, some people work extra hard and still nothing changes, life can be very weird and amazing at the same time"
nil wrote, "Half true barrister !
Although chances/ grace are pretty true, poverty is directly link to non-cognitive way of life"
deevasecrets wrote, "Yes luck has it place but you have to be prepared to meet chance and opportunity"