A serious altercation ensued between popular Afrobeat singer, Yemi Alade, and a troll who berated her music on microblogging platform, Twitter.
The drama started after her junior colleagues, Buju BNXN and Ruger, fought for the umpteenth time over who has more hit songs.
During the fight, Ruger seemingly accused BNXN of paying huge sum of monies to promote his songs even though people don't like them.

This infuriated BNXN and he in turn accused Ruger's record label boss of using 'streaming farms' to increase his numbers on music streaming platforms.
Reacting, another singer, Blaq Bones, jumped on the conversation and said, "all of you using streaming farms would be exposed soon. awon hushpuppi".
It was at this point Yemi Alade waded into the controversial discourse, saying, "Never saw a " realler " tweet! Somebody pls frame this tweet for me. I want to hang it on my wall"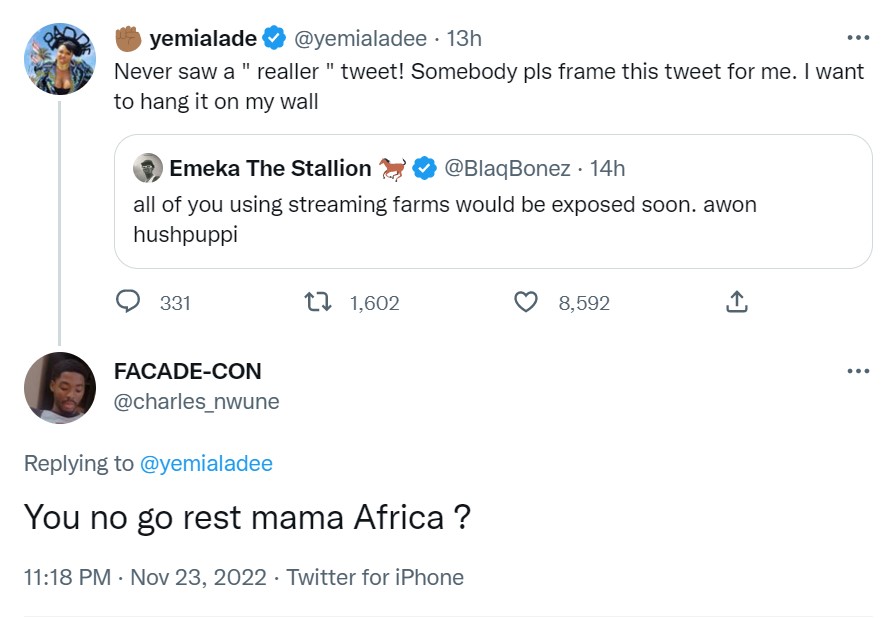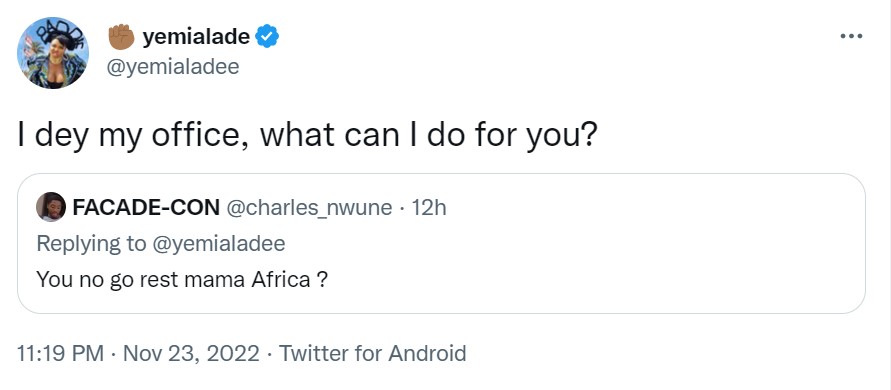 However, the self-styled 'Mama Africa' got caught in a serious clash with a troll who criticized her songs, calling them 'nursery rhymes'.
"You can try writing good hit songs and not your nursery rhymes", the troll wrote.
In response, she said, "Sing your own abeg. Make you see say eh dey easy. Poet"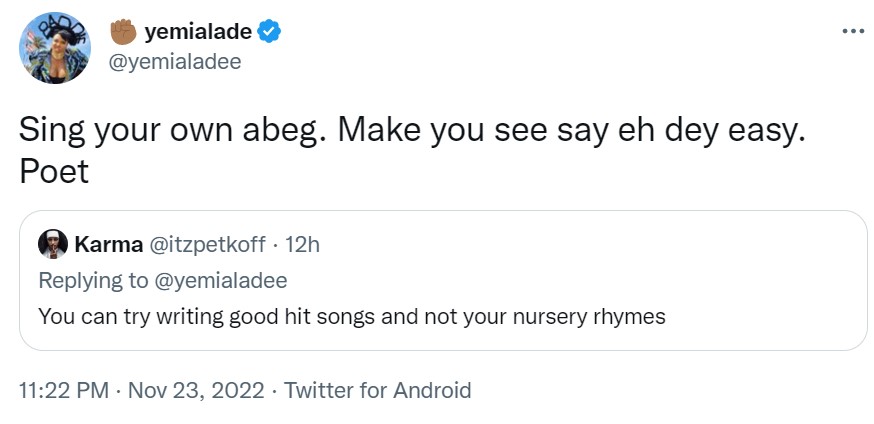 The troll didn't back down and fired back at Yemi Alade saying,
"I can show you music that is way better than yours, it just because you have the right platform.
So dont feel you are too good"
Yemi Alade felt offended by the fan's statement and lambasted him for berating her years of hardwork.
"Thunder go locate you if you don't stop this rubbish. I have been on the Road for 7 years. I REPEAT GET YOUR FACTS RIGHTS. THIS IS MY JOB. IT IS NOT A GAME," the angry star wrote.
See below,