Presidential candidate of the ruling party, All Progressives Congress, Bola Ahmed Tinubu misspoke and prayed for the opposing party, Peoples Democratic Party during the flag-off of his presidential rally in Jos.



The former governor tried to pray for his political party but spelled out P.D.P instead.
In his words;
"God bless Nigeria, God bless P.D… A.P.C! A.P.C! God bless A.P.C"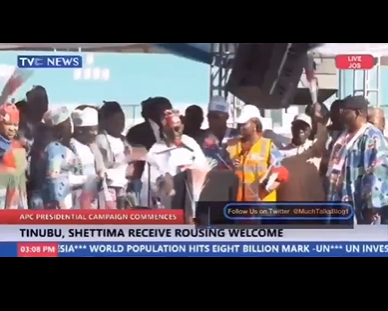 Following the mistake, some audience members showed their dismay by covering their faces with their hands, but he swiftly corrected himself by praying for the A.P.C.
Watch the video below:
In related news, Anambra State Governor, Charles Chukwuma Soludo, has said Labour Party presidential candidate, Peter Obi, knows he can't and won't win the presidential election in 2023.
He made this statement in a press release on Monday, November 14, while reacting to the backlash he received over a comment he made during his recent interview with Channels TV.
He had said that the investments Peter Obi made during his tenure as Anambra State governor is currently next to nothing.
This infuriated many Nigerians and they slammed him for it. Politician, Babatunde Gbadamosi, who also reacted to the statement, said Soludo is only 'jealous' of Peter Obi because he 'wants to stop any Igbo man from getting the presidency before himself'.
Reacting to the backlash and allegations, Soludo released a lengthy statement that reads in part,
"Let's be clear: Peter Obi knows that he can't and won't win. "He knows the game he is playing, and we know too; and he knows that we know.
The game he is playing is the main reason he didn't return to APGA. The brutal truth (and some will say, God forbid) is that there are two persons/parties seriously contesting for president: the rest is exciting drama! That many Americans may not like the fact that Joe Biden (79 years) and Donald Trump (76 years) are two frontrunners for president in their parties does not remove the fact that if both of them emerge as candidates, definitely one of them will be president in 2024.
When the revered Arch Bishop Chukwuma stated that in Enugu State, they were not obedient, he was ferociously bullied on social media. Any dissent is tagged a saboteur or, in my case, it could be that I want to contest for president after office or that I am envious of Peter Obi. Soludo envious of Peter Obi? Totally laughable!"