Ayinke, the daughter of MC Oluomo, the chairman of Lagos State Parks and Garages, has made some personal revelations about herself.
Ayinke, who is a US-based nurse, recently held a question and answer session on her Instagram stories, where she gave her fans and followers—who apparently have been yearning to know more about her—the opportunity to ask her anything.

During the session, Ayinke revealed she's a single mother of two girls and went on to flaunt her kids.
When asked if she's in a relationship, Ayinke noted that she is currently single but trying to better herself as she hopes to marry her fourth husband.
"I'm a single mother with two children and i'm in a relationship with Allah and myself. We learning how to bettr myself for my 4th hushand one day," she wrote.
See her post below,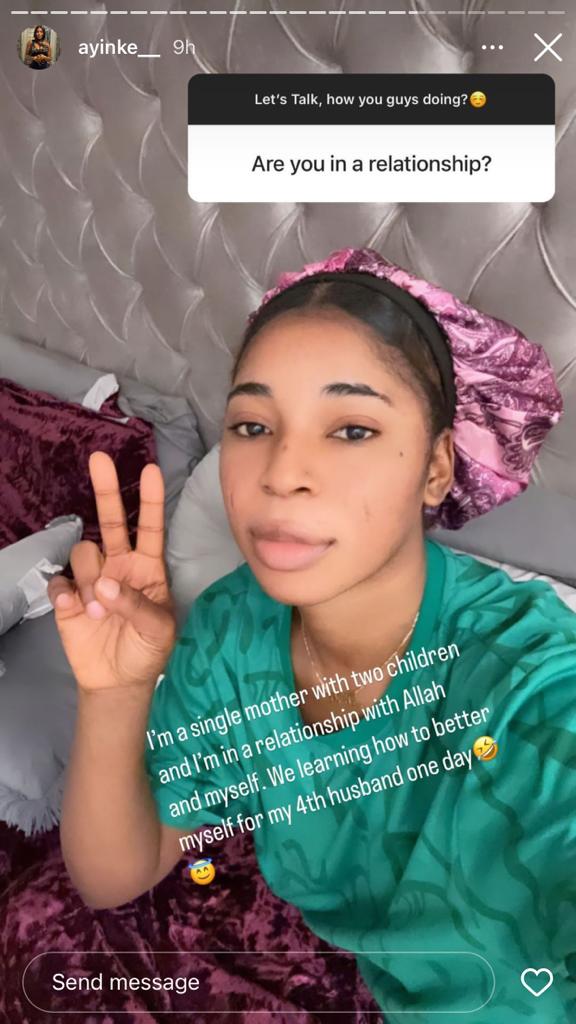 In other news, a young Nigerian man, identified as David Agbo, has declared that he will send his wife packing any day she dares talk back at him.
He stated this on Facebook recently. According to him, his wife doesn't have the right to contradict his statement because he paid her bride price, and provided a roof over her head.
He added that anytime she offends him, she must kneel down to apologize because he is her lord and must be treated as such.
"Any day my wife dared to talk back at me, It will Equally be the same day I will send her out of my house, She will go back to her Papa compound [email protected] I can not marry you with my hard earned money and u expect me to be Equal with you in my own house. 1 used my money to build, Not your papa money.
She must kneel down and beg me anytime she did something wrong to me, SIMPLE. She must Equally Respect me As her lord just like God commands." He wrote.