A young Nigerian lady has taken to social media to lament bitterly after her mother's househelp allegedly tried to disfigure her face.
In a video shared on TikTok, the lady with handle @Toria, narrated how her mother brought a new househelp from the village unknown to them that she had evil intentions towards to her.
She said shortly after the househelp moved into their house, the skin on her face started peeling and reacting to an unknown chemical.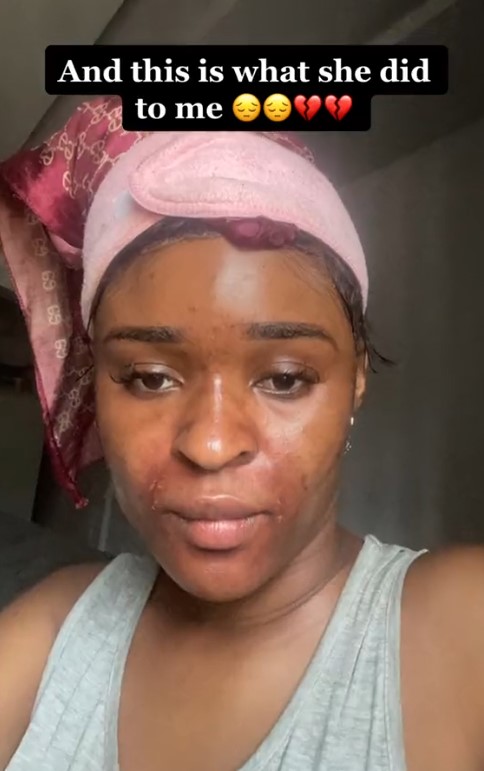 According to Toria, the househelp eventually confessed that she mixed a harmful substance with her face cream which caused the reaction and burnt her face.
She posted a video montage showing the effect of the cream on her face, and wrote,
"My mom got a new house girl from the village and this is what she did to me. She confessed she added something to my face cream."
Always watch your back not everyone is happy 📌…what did i do to deserve this?😭💔😫"
Watch the video below,
In other news, a South African woman has taken to TikTok to reflect on her life ahead of her 31st birthday in two weeks.
The divorced mother of two, identified as @ediemac28, said she will turn 31 soon and has not achieved anything worthwhile in her life.
She said she does not have a well-paying job, neither does she have a car or a house to her name.
According to her, she might be pretending that everything is fine on social media, but deep down she's not happy.
She further disclosed that the father of her two children does not support them financially or emotionally, and she's been charged with the sole responsibility of taking care of the kids.
She however noted that she believes everything will eventually turn out well because she's trusting the process.