Beautiful Nigerian singer, Waje has said she won't be joining her colleagues in doing giveaways after a follower encouraged her to so.
The singer said this after series of her fellow celebrities took their time out to do giveaways to people online to help them get supplies for the lockdown.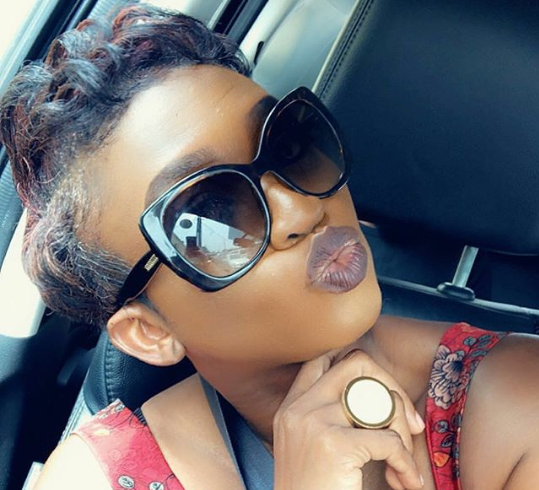 A follower called the singer out to do giveaway, and she replied simply saying 'No'
See their exchange below;
The follower tweeted: "@OfficialWaje do giveaway."
And Waje replied simply: "No"
She added: "Should I explain why? If you will allow me I will. See, this period is tough for everyone. Don't be fooled by social media gimmicks but, the ones who have the hit are those in the slums, people who can't even afford data. Nursing mothers with no food. Old people with no pension.
"So they are my focus, if I had more than enough, I'll do giveaway but I don't so what I have I give to #addacup that's distributing food and basics to people in lagos, Abuja,Akwa,Benin. Everyone has to do something. So I'm sorry I can't do giveaway this season."
She concluded: "So don't waste your time and send Acct details cause I can't afford it. Addacup has my attention for now. Stay safe. God bless. No shame in speaking my truth. Some artist are doing giveaway, take advantage of their kindness and use it wisely."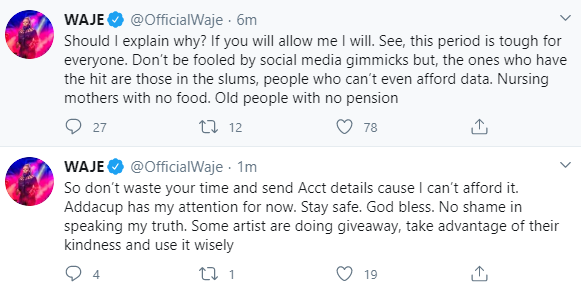 Read her tweets below starting from the bottom to the top.