A Nigerian man who recently made headlines over his tweet that a man's wife should not be regarded as his family member has made a surprising U-turn.
The man, identified as @Mazigomez while reacting to Moroccan footballer, Achraf Hakimi, and his wife's divorce saga, asserted that a man's wife is not his relative and that he can only totally rely on his parents and siblings.

His words,
"The truth remains that your wife is not your family. Only your parents and siblings are".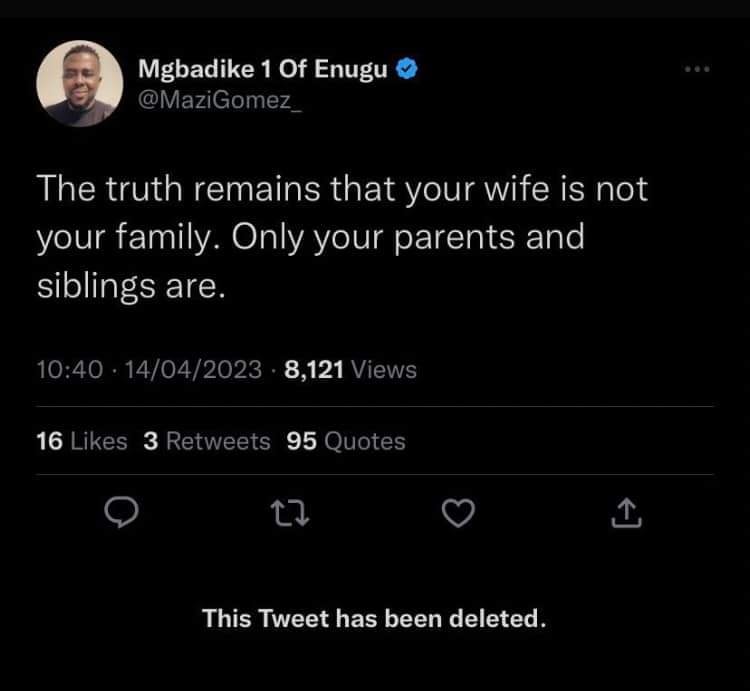 His statement sparked controversy and received backlash from various individuals and groups who saw it as a belittling and disrespectful view towards women in marriage.
However, barely 24 hours after the tweet went viral, the man made a surprising U-turn, saying that his statement was not applicable to his own wife.
He deleted his previous post, and in a new tweet, he eulogized women, describing them as beautiful creatures.
He further revealed that, contrary to what he said in his viral tweet, his wife is his next of kin and all his properties are in her name.
"Women are beautiful creatures and I love the women in my life, especially my wife. She's my next of kin and yes I put her name in all my properties." He wrote.