A Nigerian woman is currently in a celebratory mood following the birth of her first child five years after marriage.

Taking to social media to express gratitude to God on the arrival of her bundle of joy, the woman recounted all the adversaries she had to endure before finally welcoming a child, including a friend who called her barren to her face.

According to her, she conceived her baby naturally after she had lost multiple early pregnancies, 2 times IVF and 2nd trimester twin pregnancy lost.
Sharing the voice note where the lady called her barren, the new mum wrote,
"It took us 5 solid years , 6weeks ,2days few hours and some seconds to make you …. (PERFECTION AT ITS PEAK 👌ISN'T IT ? 😁) After multiple early pregnancy lost and 2 times IVF 2nd trimester TWIN pregnancy lost, my RAINBOW 🌈 came NATURALLY without us even trying but just a prophetic word from a pastor I never met …(brb lemme GBESE💃💃)

"I got the most hurtful comments from people, like…..1) Fair girls are river kids u need to do some sacrifice so they can release ur children …. don't eat fresh fish don't drink Fanta and some other bla bla bla 😁(me wey no dey use fish play, I didn't stop eating it Incase u are wondering😋) 2) You offended someone so the person tied your womb ( ouch lol )
3) The most common of all is A BARREN WOMAN ( the voice u heard at the start is from a despirado girl AISOSA and her supporting partner in crime PRECIOUS who desperately wanted to take over my home "unknowingly to them I was 3months pregnant at the time she sent the voice note.

"SOOOOO…LADIES and GENTLEMEN 🗣….."coughs" (please don't try to rush me🙄 I just had a baby😁)….I present to you my heart, my kidneys and some other vital parts of my being in form of "MY" CHILD".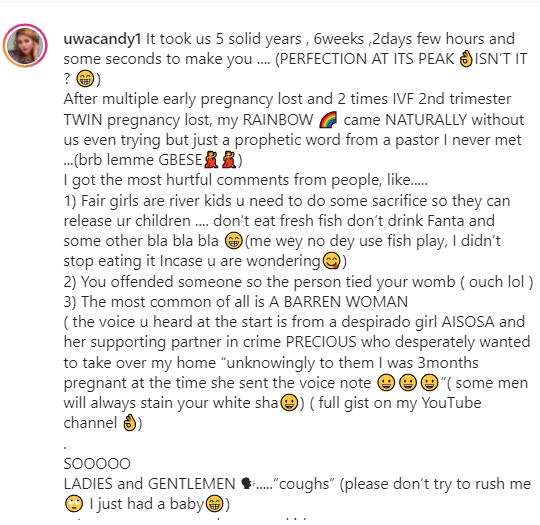 Listen to the audio below,