Big Brother Naija star, Asogwa Alexandra popularly known as Alex Unusual, has taken to her Instagram page to bemoan the rate at which women tear each other down.

The reality show star opined that women are fond of criticizing and downgrading their fellow women and she finds it very disgusting.
She likened the trait to witchcraft and stated that women need not to be nicer to each other.
"Women tear women down the most and it's disgusting. To all the women reading this, please this week, do not fall into that category of witchcraft. Be nice to others," she wrote in an Instastory post.
See her post below,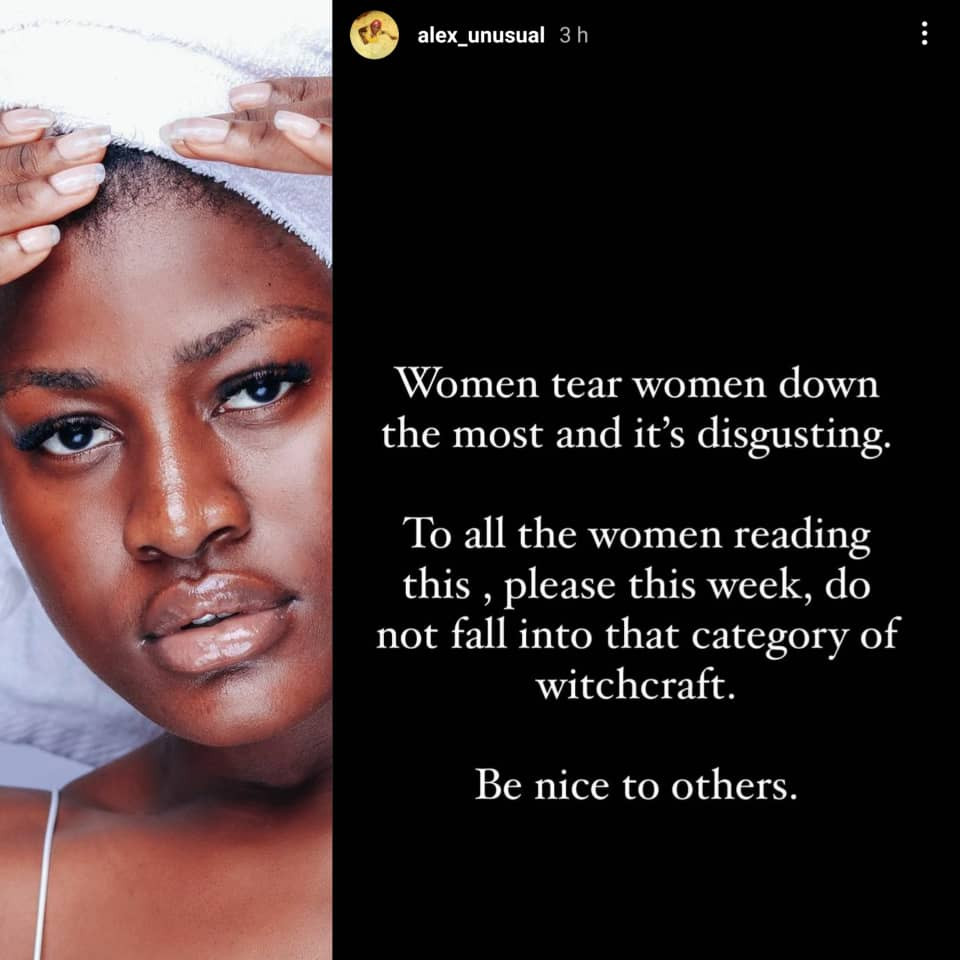 In other news, Alex Unusual recently advised men to keep good personal hygiene.
According to the reality star, men's underwear i.e boxers should not be worn more than once before washing.
She wrote,
"Random thought. Guys please, your underwear(what you call boxers and pants) isn't a part of the body. Wear it once and wash it. Dont think it only applies to ladies.
"Also some guys feel its not a problem when they wake up in the morning and not have their bath or brush all day but they'll wear designers and gold chain, make videos living the life, work, and go about their activities. You're a pig, you just haven't been told.
"It's not about having a bath when you need t go out for parties or when a girl is coming over. Its also not about wearing perfume and not having a bath. Your whole house can be clean but you are still dirty.
"Yiu can have all the money in this life and still have odour. (An excuse is accepted if its a health condition) Take a lot of water too. Neatness is key. She added