Veteran Nollywood actor, Pete Edochie has set tongues wagging on the internet over the way he greeted the Ooni of Ife, Oba Adeyeye Enitan Ogunwusi, at a recent event.
The incident took place at the birthday celebration of Nigerian philanthropist and wife of Nigerian oil mogul, Tein Jack-rich, Elizabeth Jack-rich.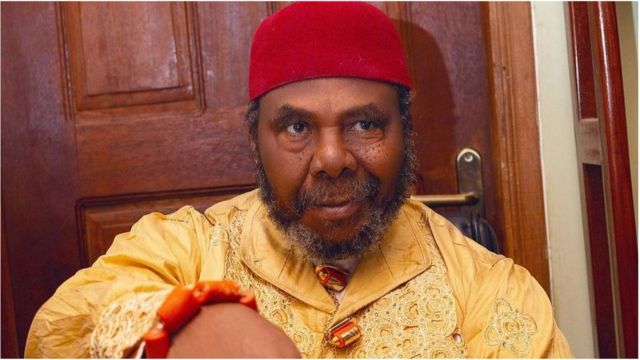 A video making rounds online shows Pete Edochie shaking the revered Osun monarch instead of prostrating or bowing down to him, as Yoruba custom dictates.
The 76-year-old actor attended the high-class celebration with his colleague, Kanayo O. Kanayo, and was taken to where the Ooni of Ife sat with his wife and other dignitaries upon his arrival.

Instead of bowing to the king in honor of his kingly status, Pete Edochie gave him three back handshakes and a firm one. Kanayo O. Kanayo also shook hands with the king before they were led to their seats.
The video has sparked a barrage of reactions on social media, with many claiming that Pete Edochie's action was disrespectful to the king, while others defended him, stating that the septuagenarian is also a chieftain in his community.
@beninghone wrote, "This is wrong but I won't stress it…. I let it slide!"
@ceruobodo wrote, "Try this with Alaafin of Oyo and get fucked.
Who the hell are you?
Bow on your fucking knees."
@rashid_bwhizzy wrote, "Ooni should have declined sha… if it's your culture not to prostrate or bow to the king. It's ours. Exchange pleasantries but no shake or anything."
@popmerchant wrote, "Going to events everytime like this attracts disrespect to his throne. Instead of him to send a representative with his Staff of office, which represents him in person. That's one thing I like about the late Alaafin. That's why even Kanayo dey follow you shake hands. Gen Z Oba"
@Kylareetarh wrote, "Lol people saying why didn't Pete bow to Ooni
That 3 handshake is what Titled men give
He wouldn't have bowed. An Igbo Titled chief wouldn't!!"
Watch the video below,