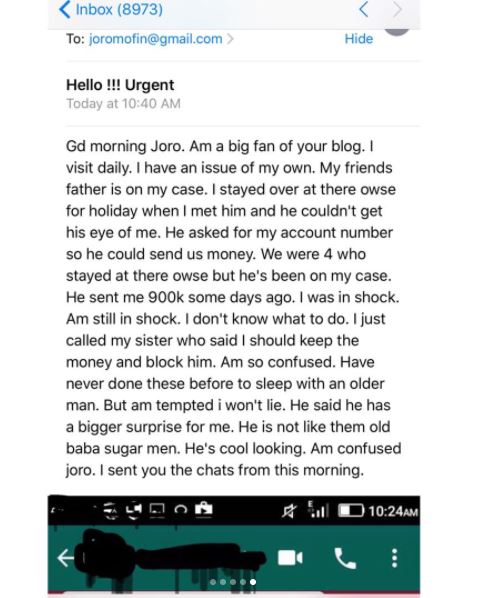 An unidentified university girl has cried out after her Friend's father came for her. According to the lady, she slept over at her friend's house during the holidays and she met her friends dad.. and since then, he couldn't get his eyes off her.
Read her Story Below, Followed by the chats they had on whatsapp:
Good Morning Joro. Am a big fan of your blog. I visit daily. I have an issue of my own. My friends father is on my case. I stayed over at their house for holiday when I met him and he couldn't get his eyes off me. He asked for my account number so he could send us money. We were 4 who stayed at their house but he's been on my case.

He sent me 900k some days ago. I was in shock. Am still in shock. I don't know what to do. I just called my suster who said I should keep the money and block him. Am so confused. Have never done these before to sleep with an older man. But am tempted I won't lie. He said he has bigger surprise for me. he is not like them old baba sugar men. He's cool looking. Am confused joro. I sent you the chats this morning.
Read the chats between them below