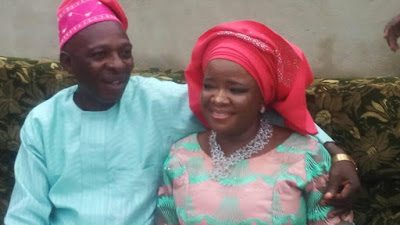 A 50-year-old Spinster, identified as Omolayo Oyeyemi Oyewole, who has never been married before and happens to be an ordained Deaconess of the Redeemed Christian Church of God (RCCG) of Fountain of Living Water Parish, Tudun Wada, FHA Lugbe, Federal Capital Territory (FCT) Abuja, was one of the happiest women on earth last weekend, as she walked down the aisle with her man, an RCCG Pastor, Mike Gbade Adetutu.
She wedded her heartrob last weekend in Abuja at an event filled with joy and greeted with fanfare as Friends and well wishers, gathered to witness the couple's wedding solemnization that took place at RCCG, Resurrection Parish, Babangida area of Lugbe in FCT.
She is reportedly said to have remained calm and exhibited high moral standards during her spinstership period despite her age, hence she was ordained a Deaconess while her husband, Adetutu, was a widower before their paths crossed.
LeadershipNG reports that all their attempts to speak with either the bride or her groom proved abortive as they were carried away with the joy of the historic day in their lives.
A member of her parish, Mrs Shade Areo, described the event as a "wonder wedding" made in heaven.
She said:
"To God be the glory after much waiting, God finally put smiles on the faces of Deaconess Omolayo. Indeed, God is Great!"
See more Photos: