Nigerian actor, Yomi Fabiyi who is presently in the UK is reuniting with his wife today and the plan is that the couple might be returning together as a happy couple since the actor has emphasized that he no longer wants to live like a single man!
Recall, the actor had cried out on social media months ago about his desperation to break away from his wife, Fran who has refused to come settle down with him in Nigeria as they had planned together initially.
According to Yomi back then, he was tired of living a single life in Nigeria, but he however said he wasn't sure if his wife would give him the divorce.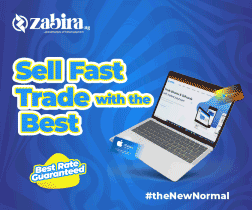 Well, Yomi few hours ago shared the wedding photo of himself with his beautiful wife, Fran as they celebrate their fifth year anniversary.
He also hinted that the plan to get a divorce is no longer valid as he now plans to work things out with his wife once again.
"Happy 5years Wedding Anniversary to US."
"In the 5years of our marriage, I enjoyed tremendous growth in my career and we had good times, rough moments. The memory of our holiday to Republic of Benin in 2015 lingers. The cruises in my car and those resorts visited."
You support my career and honestly wish I continue when I decide to live in the UK, you have good plans but as God will have it I choose to stay back, kept working harder and 2016 in particular my decision was vindicated to a reasonable extent, I won BEST ACTOR in Leading Role(Yoruba) BON AWARDS, BEST PRODUCER(CITY PEOPLE AWARDS), BEST MOVIE(YOMAFA), BEST PRODUCER (AFRICAN FILMS AWARD, LONDON), and in 2017 I won BEST ACTOR in a Supporting Role( AFRICAN FILMS AWARD, LONDON).
"The GREEN WHITE GREEN as our outfit and hall decor was a clear message from day 1 dear and it has not change cos I believe in Nigeria, my people and my career ????"
God willing as we proceed onto the sixth(6) year, we will be able to sort the only hurdle in our marriage and you keep to your promise to me from the beginning to take up employment in Nigeria and live under my roof.
I honestly will NOT love to celebrate the 6th anniversary this way MARRIED but LIVING SINGLE.
As we celebrate, I hope and wish this will be my FIRST and the LAST MARRIAGE, God willing. Congratulations to us and see you in few hours."