A video serving rounds online has captured the moment veteran Nollywood actress, Rita Edochie scolded her colleague, Chief Imo in public for bad table etiquette.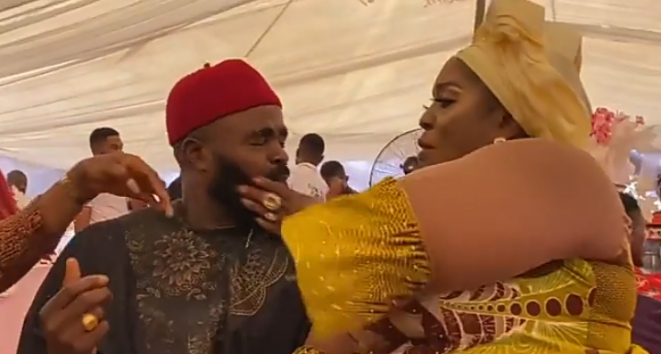 The duo were at an event which held recently and was seated on the same table with other guests. However, Chief Imo who was enjoying a cup ice cream at some point dropped his spoon and started using his hands.
Carried away with the sweetness of the Ice-cream and forgetting he was in public, the actor used his fingers to clean the cup and passionately licked his fingers afterwards.
On seeing him Rita Edochie scolded and him and landed him multiple slaps for his bad table manners.
Chief Imo who shared the video on his Instagram page noted that he totally forgot he was in public and thanked the actress for the slap which made him aware of his environment.
"I forgot that we were in the public….::::: my village people just embarrassed me! 😂😂🤣 Thanks for reminding me mummy yo!" He captioned the video.
Watch video below,
The video has stirred hilarious reactions on social media with many noting that the slap was reflex and what any African mother would do at that time.
See some comments below,
@blemivivskincare, "African mothers and resetting slaps are 5 & 6 🤞🏻😂"
@ogwogwuo, "😂😂😂😂😂 my mama go still beat me again when we reach house".
@doctorr_bright, "Rita be like "You can't disgrace me 😂😂😂… how can you sit next to me and be behaving like hoodlum? 😂".
@mz_mimsy, "Nigerian mothers. This slap is reflex😂😂".