A video of Big Brother Naija Season 6 housemate, Sammie crying while taking to fellow housemate, Angel has stirred reactions from fans on social media.
Sammie and Angel were having their regular chit-chat when he suddenly went emotional and burst into tears. A concerned Angel tried to console him with encouraging words.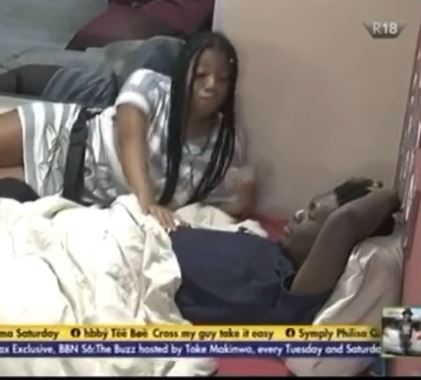 Jackie B then walked into the room and Angel signaled to her that Sammie was crying, Jackie joined them on the bed as they both console Sammie.
The video has however stirred reactions online as fans of the reality show noted that the tears was a strategy to gain the sympathy of viewers.
A Twitter user __lynda.ify wrote, "This Sammie's pity strategy is getting irritating… right from when he entered the house he started talking about how he had just 900naira left with him… gosh. really very irritating. The strategy dun cast biko!"
Another fan of reality show @mz_nyinye wrote, "I'm sha not voting anyone out of pity this year oo..make person no use cry get me this year."
Watch video below,