A 36-year-old woman, Veronica Musa, has shared how she delivered a healthy baby despite not knowing she was carrying an abdominal ectopic pregnancy for 9 months.
Although doctors had first verified that she was pregnant, the new mother, who had been married for two years and was trusting God for the fruit of the womb, admitted that she had no idea the baby was developing in her stomach and not in the womb.
She said a couple of weeks into the pregnancy, she started having tummy cramps, so she went to the hospital, where the doctors requested that she have a scan.
At the first scan clinic she visited, she was told that her womb was empty and there was no baby inside. Instead, they said she had multiple fibroids.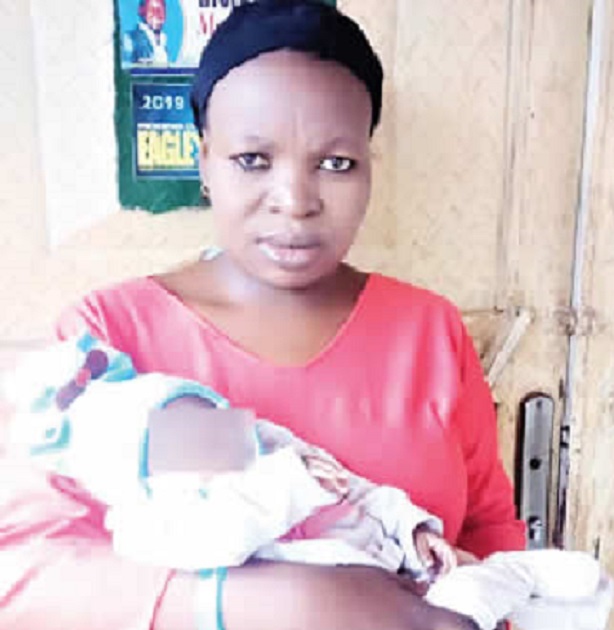 Veronica said that, with advice from doctors to go for further tests, she visited about five more hospitals, and they all confirmed that she was actually pregnant. She noted that while she was glad that she was pregnant, she was worried because she was always in pain.
I was elated because I was well into my thirties and the pregnancy was a confirmation of my faith. I had prayed and trusted God, and when I saw the result, I broke out in joy. I never knew that the baby was growing inside my stomach and not in the womb.

"During the course of the pregnancy, I was always having stomach pains. For some days, I would not be able to walk or stand straight. I was always going to the hospital and, the doctor would always treat me for malaria.

"However, when my complaints persisted and I was not getting better, the doctor asked me to go for a scan. So we went for a scan. The first place I went to, they said I was not pregnant. The doctor said he was not seeing any pregnancy but rather multiple fibroids in the womb.

"So, I went back to the hospital and the doctor asked me to go for another pregnancy test which I did. It was positive this time. He later referred me to another scan centre for examination. I went there and the doctor said there was a baby in my womb, but also confirmed that I had multiple fibroids.

"I did about five scans and they were always showing that the baby was in the womb. There was none that showed that the baby was in the stomach. So, the doctors also thought it was a normal womb pregnancy." She said.
According to her, even though she did not know she was carrying an abdominal ectopic pregnancy, the doctors had mentally prepared her for a surgical birth due to the fibroid.
Her words,
"The doctor told me that I won't be able to give birth on my own, through my vagina and that we would have to do CS because the fibroid is blocking where the baby is supposed to pass through not knowing that the baby was not even inside the womb."
She disclosed that it was only on the day of her delivery that doctors realized she was carrying an abdominal ectopic pregnancy.
"On the day of the delivery, April 20, 2022, we were in the theatre. The doctor, a consultant-specialist from another hospital, opened my womb and did not see any baby there. She said.