Actress and Instagram Comedian, may have just gone overboard with a troll.. and folks are dragging her mercilessly for this.
It all started when she took to her page to write; "Sad. Jesus fed 5000 people".
The troll, apparently, attempted to come for her. The troll who says he's a father to a beautiful child wrote; "But Jesus no naked feed the 500".

Hurt by this, Etinose decided to curse the child of the troll, declaring that the troll's child will die before the month end.
See their exchange below;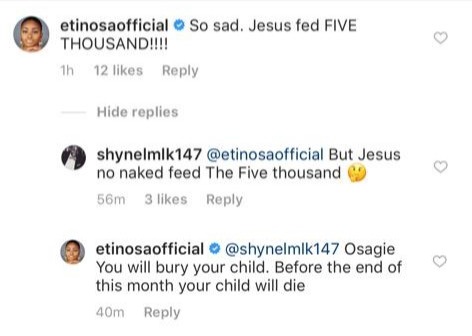 The troll quickly laughed off the comment, saying there's no way in heaven her curse will work on him or his child. The troll further wrote; "Loz, Edo Jazz no dey work for Edo boy like me".
Replying authoritatively, Etinosa wrote; "I need you to screenshot this comment so when your child dies, you will know it is me. I was on my own. I do not know you and I have never offended you but you choose to hurt me because for you this is "just social media". Well social media will turn to real life very soon starting with the loss of someone in your family. Screenshot this comment.