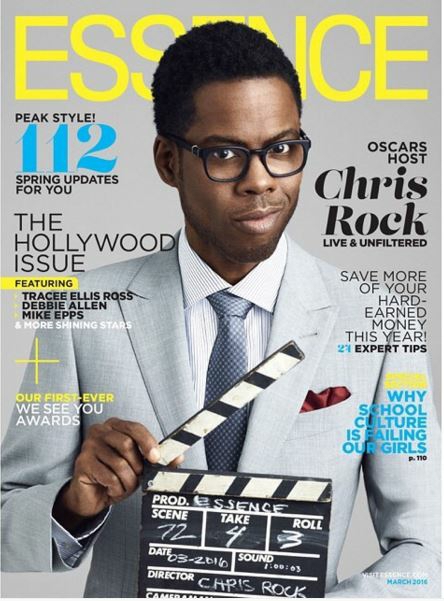 American actor, Chris Rock is on the cover of Essence magazine for the very first time as he gets featured in their annual Hollywood Marcy Issue.
The actor talks about the diversity in Hollywood, his second go at hosting the Oscars, and roles for Black women in Hollywood.
See excerpts below.
On the Oscars: I'm going to do my best. It could go horribly wrong. Don't ever think that it can't. That's when it goes wrong—when you don't think there's any chance of it going wrong. If you know it won't, it probably won't.
On the challenges facing Black actresses in Hollywood: "I've never done a movie, any movie, the silliest movie, where someone, some studio person hasn't gone, 'Does the girl have to be Black?' It happens every time. Black women get paid less than everybody in Hollywood. Everybody's talking about Jennifer Lawrence. Talk to Gabrielle Union. If you want to hear stories, talk to Nia Long. Talk to Kerry Washington. They would love to get to Jennifer Lawrence's place, or just be treated with the same amount of respect.
On black women getting fewer roles in Hollywood: I think everything I've ever done has had a significant role for a Black or brown woman. I refuse not to. I've never gone into battle without a Black woman, you know, a movie battle. With Tichina Arnold in Everybody Hates Chris, I had to fight for Tichina. I'm not even going to tell you who the network wanted. She's literally as good as Tina Fey or Julia Louis-Dreyfus or any of these chicks. They're like, 'Tichina who'?'