Diners at a popular restaurant in Lagos state were left disappointed after spotting a live centipede crawling inside the bowl of Isi ewu (goat head) they ordered.
The diners were at the restaurant to treat themselves to a bowl of sumptuous Isi Ewu, but unfortunately, they could not get themselves to eat the meal after spotting the live creature.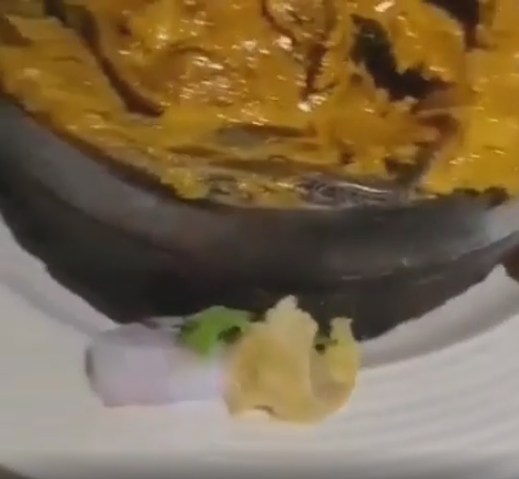 The disappointed customers recorded the centipede and shared the video online to warn other customers.
The incident reportedly happened in a restaurant in Ago, Okota area of Lagos state.
Watch video below,
In other news, a Nigerian lady has taken to Twitter to share the long list of provisions her younger brother in boarding school requested for.
According to @officialtomi1, her brother who is currently in Junior Secondary School 2 sent the list ahead of visiting day in his school.
Visiting day is a much anticipated day for boarding students as their parents are allowed to pay them a visit and bring food, provisions, school materials and other treats.
In anticipation of the special day, Tomi's brother sent an insanely long list of things he wants his parents to bring along when coming to visit him and it contained ridiculous items.
The young lad requested for shawarma, pizza, pastries, fried rice, chocolate, soft drinks and so many junk food alongside other basic needs.