'Rema is Mavin Records New artiste, yet some people are hating on him.
The 18-year-old is currently making waves in the music Industry, and he's received lots of hates.
Record Label Boss, Don Jazzy has come to the defense of the singer, writing; "When I see 30 something years old men with full bear bear hating on Rema wey still be embryo. Ore it's not for us. Allow the boy influence his age mates in peace"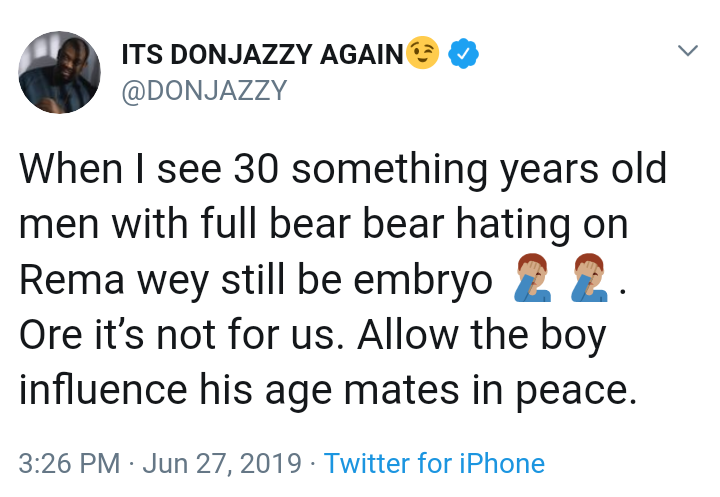 Some reactions;
Tolexander: Word! Just like the way my fathers do hate on wizkid, Davido, Kizz Daniel, all because of Sunny Ade and Ebenezer Obey they are used to
Abfinest007: don jazzy nailed it. go n look for ur mate n mess with them
Drabeey: Leave all these booda boodas. What has thinking the way our fathers thought gotten us? We keep envying the oyinbos. They give priory to whatever their children hobby is.
Modath: Don Jazzy said it right, everything is not for everybody. Rema is marketed to the teen tweenie market , so older people hating on him have nothing important to do & not a lot going for them in their own lives … Wizkid & Davido fans are growing with them… Usher and Tyrese generation don't care much for Chris Brown, Trey songz & co… People mata just taya person.
jaymee0: The guy's actually making waves, I still don't understand why people hate.
Abudu2000: You have no idea how painful if feels to take a puppet dummy, write him songs, make him beats, spit into his mouth and ask him to spit it out then all a sudden ppl criticize the puppet. For real jazzy shot himself when he started comparing half baked artist to a full blown wizzy.u know what it means to stay afloat in the industry today? All those childish galbino, designer, wacomzy, sugarboy etc where them dey today? To start is one thing, to keep up is everything