Actress, Georgina Onuoha has rubbished reports that she had an affair with popular clergyman, Apostle Johnson Suleman, and is one of the actresses who benefited financially from him.
An unscrupulous report was shared online recently naming some Nollywood actresses who have had an affair with the married pastor.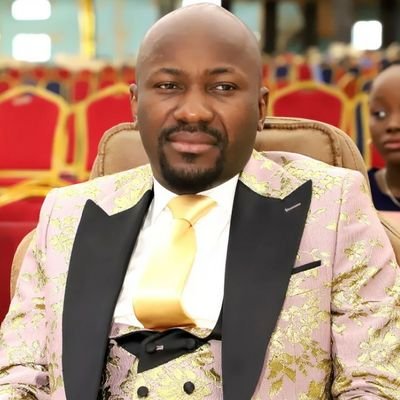 However, some of the actresses mentioned are yet to respond to the allegation except Georgina, who took to her Instagram page to slam the "faceless coward hiding behind keyboards" to spread false news.
She also dared the anonymous blogger to reveal his/her identity before coming online to make unfounded claims about her.

The 41-year-old actress stated that her affiliation with the pastor is not news because in 2017 she came out in to defend him after being accused of a sex scandal.
Read her full post below,
"This article was from 2017.
.
In 2017, I Georgina Onuoha defended Apostle Suleman. When he was being accused.
Not because I know the dealings of his private life, nope, because I know many of us in the movie industry are recipient of his generosity.
Men, women, old and young alike.
From comedians to musicians, actors and everything in between.
Me Georgina included. I will not deny his help towards me or anyone who has been of help to me because some faceless cowards hiding behind keyboards are spewing bullshit.
I wrote about it in 2017 myself on this page and wall.
So Abeg what is the breaking news again? 🤣.
If you have issues with Apostle Suleman, please go and address it with him. Don't drag people into your mess.
Till date I am still thankful to him and I will never throw stone at him for whatever kind of relationship you chose to foster with him as an individual.
For me, I will say thank you Pastor Suleman for the help you gave me and the people you sent to help me navigate issues I needed to sought out in life.
God bless you.
If what I just wrote vexes you, please go and hug a transformer or use third mainland bridge.
I do not owe you any apologies for the people I know or have associated with in life.
If they wronged you hold them accountable, don't do that by dragging others down.
.
.
It has taken a community of good people men and women to build this woman up after she was broken down.
Not every man or woman who comes into your life wants to bed you.
That is why how you present yourself matters a lot.
.
So dear @gistlovergram_media @gistlover.gram_media @gistlovergram_meedia you are not breaking any news here.
When people throw names out to you to write ask questions.
You know people can benefit if they can place a face to you and truly appreciate whatever crusade you are indulging in.
How do serious minded people take a faceless person serious?
I like bold people who can take ownership of what they write ✍️. It shows authenticity, genuineness and bravery. You keep hiding behind keyboards forming a warrior 🤣🤣.
You can do better darling.
I love bold faces and people who take accountability for what they write about others."