Lilly Asigo, wife of Kenyan hip hop artist, Jua Cali, has averred that people who do not have coitus up to four times a week need deliverance.
The television personality stated this in a post via her Insta-stories, noting that women who do not enjoy intercourse have bad spirits.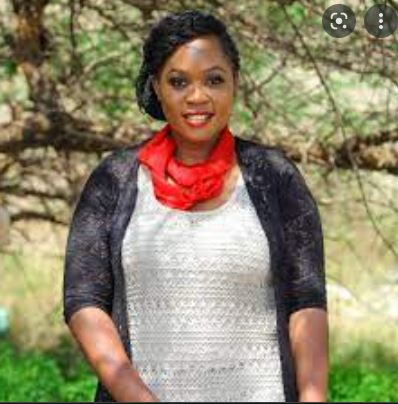 According to her, saved people have more meaningful and enjoyable intercourse.
"Ladies…If you are not enjoying s3x, you have a bad spirit, you need deliverance. If your guy is not Effin you 4 times a week, you both need deliverance unless MKO 99yrs old…Saved people have more meaningful enjoyable s3x". She wrote.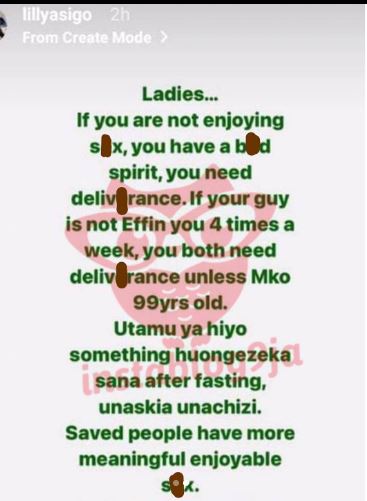 Meanwhile, a Nigerian man has taken to micro-blogging platform, Twitter, to dish out some marital advice to married men and soon-to-be husbands.
@RowlyDaDon recently celebrated his seventh wedding anniversary with his wife and mother of his two kids, and decided to share seven marriage advice to people.
Read his full post as shared on Monday, July 4,
"1. Never compare your wife to another woman, in any area whatsoever.
Even if it is your mother, Never make that mistake. This is also applicable to ladies who especially compare their partners to their dads or other men they once dated. It is the wrongest thing to do. If you do this, that relationship won't see the light of day. It will only end in frustration. When you do this, it only demoralizes & dampens your partner especially when you say it. It kills the spark in that marriage. Most times you think it, but stop. Avoid it at all cost.

Never watch Porn You might be tempted to want to learn one or two things from porn to spice up to sex life or learn a few things. Trust me, that thing will only damage your sex life. Remember sex involves more of your mind & soul that your physical body, this is same as porn."