A Twitter user has narrated how the marriage of a couple who had been close childhood friends for fifteen years crashed only five months into the marriage.
According to the Twitter user, who claimed to be the friend of the couple, the pair were inseparable as friends, to the point where it looked like one couldn't live without the other.

Sadly, barely four months into their marriage, things went south, and they finally got a divorce a month later.
sharing the tale online, their friend wrote,
"A friend of mine married her childhood boyfriend of 15yrs, had a child together who later died, they were inseparable. They got married and dint last for 5mnths. Infact, na abeg we do wey e pass 4months 😅💔.

"Na so 😂 I still can't comprehend the problem allah. If you see them then enn, Chunduna can't breath without Elizabeth and vice versa, the parents got tired and let it happen. Today, all of them can breath without each other 😭making love look like a scam."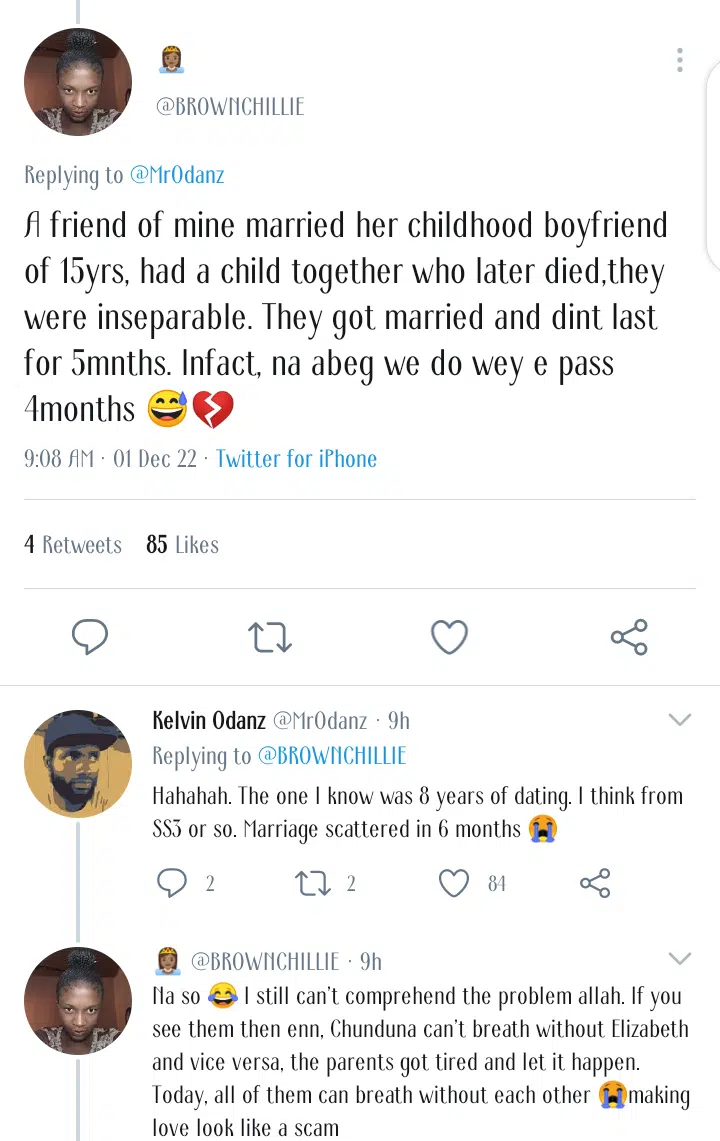 In related news, a young Nigerian lady, identified simply as Bola, has taken to TikTok to advise ladies against marrying a man because he impregnated them.
Bola, who gave this advise from her personal experience, disclosed that her marriage crashed barely three months after it was contracted.
She accused her husband of physically assault, and claimed he stabbed her while she was pregnant with their child. She said she had to leave the marriage because she couldn't continue anymore even though she's heartbroken.
She further advised ladies not to get married to a man solely because they fell pregnant for him.
Sharing a video montage consisting of her court and traditional wedding pictures, she wrote, "It hurts my marriage doesn't last three months Pregnancy doesn't mean you two should marry".