A young Nigerian lady couldn't control her emotions when she got to meet popular Nigerian singer, Harrysong, for the first time.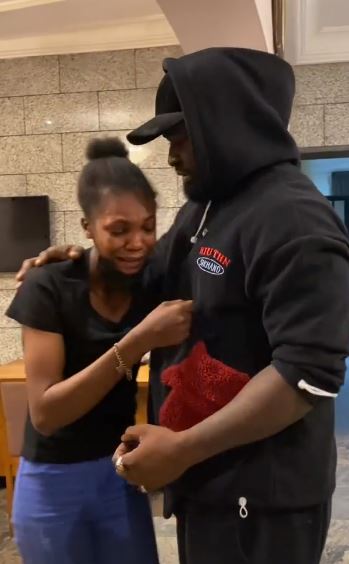 In a video that was shared on social media by the Warri-born singer himself, the lady dropped to the floor and burst into tears the moment she ran into him in the reception of what looked like a hotel.
The lady, who seemed like a staunch fan of the "she knows" crooner, was super elated and could not hold back tears as she kept thanking the singer.
Harrysong pulled her up, gave her a warm embrace and tried to pacify her, as he's seen giving her a path on the back.
Watch videos below,
In other news, popular Nigerian singer, Harrison Tare Okiri, better known as Harrysong has rebuked a lady who employed spiritual means to win his heart.
The singer took to his Instagram story to share the chat with the Nigerian lady.
In the chat the lady who identified herself as Ifeoma, shared a note from her prophet, claiming the man of God told her that the singer, Harrysong was the man ordained for her.
Ifeoma who noted that she's depressed and in dire need of a man requested a ring from the singer.
In her words,
"I'm depressed becos you is part of it also and the rest. I need a man and the Lord said is you, in fact and prophet said it you. Prophet said it sir, told me and I told the prophet that the man you said hate me ooo. I want ring from you sir. I'm the Ifeoma Konna way hide and see".
In response the singer rebuked the lady and dubbed her a setup.
He wrote, "In Jesus name I run for my life. you setup tufiakwa".