A trending video shows the moment a Nigerian lady, identified simply as Grachi, was caught with her friend's boyfriend in a hotel room in Port Harcourt, Rivers state.
Grachi was said to have visited her friend's boyfriend without her friend's knowledge to 'console' him after discovering that he lost some money.
Unfortunately for her, the man's girlfriend got wind of her plans and stormed the hotel to confront her with some other ladies.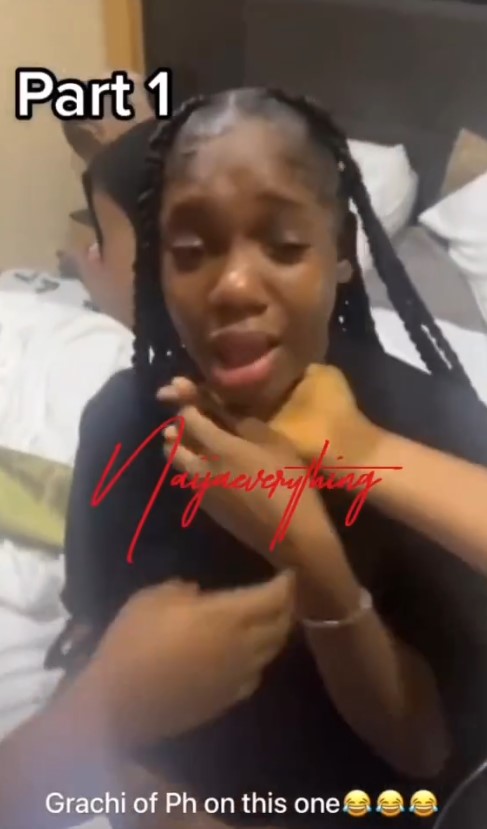 In the viral clip, the ladies were seen embarrassing Grachi for going behind her friend's back to visit her boyfriend under the guise of 'consoling' him.
They also claimed Grachi lied to her own boyfriend that she was going to visit her female best friend. She was seen weeping profusely in the video while a man, presumed to be the boyfriend they were fighting over, was pressing his phone on the bed.
Watch the video below,
In other news, a Nigerian man has taken to social media to reveal that he took himself out and got some nice things at his wife's expense without asking her.
He disclosed that he got hold of her ATM card and decided to treat himself since he knew her PIN.
In a video posted on social media, the lady used a voiceover while crying bitterly after he spent money from her account.
He could be seen licking ice cream and eating popcorn which he bought with her money, but while she was crying and complaining he smiled sheepishly and focused on his goodies.
The husband captioned the video; "POV: When I use my wife's ATM to take myself out". Watch here