A Nigerian lady has taken to social media to show the terrible state of her boyfriend's house after she travelled for two days.
The lady stated that she left her man's house for just two days but received a rude shock when she returned back.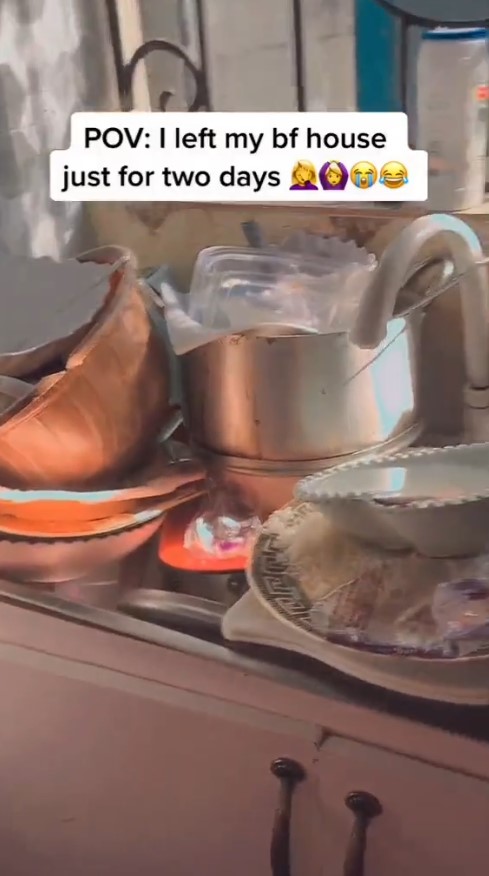 According to her, she met the house in an extremely dirty and disorganized state. She posted a video of dirty pots and plates heaped in the kitchen. His room also looked dirty with clothes thrown in weird places
She captioned the video, "POV: I left my boyfriend's house just for two days."
The video has gone viral since it was shared online and has sparked mixed reactions from netizens, who criticized her boyfriend for lacking proper hygiene.
@omo_esa_in_lagos wrote, "Break up with him 🤨🤨🤨 no be when you marry am, you will start complaining that your husband doesn't assist with house chores."
@unboxwithadaora wrote, "Who will clean all this mess? Oya wife material, over to you😂"
@miztaholu_ wrote, "You never see husband o 😂😂"
@lure_and_kit_social wrote, "You choose to date such men. Adults are first and foremost supposed to be concerned about their personal well-being (basic needs and necessities like cleanliness, health, safety, etc). If he's not responsible enough to cater for his own basic needs, will he be discerning enough to cater for yours? Ladies, men aren't extinct. There are still numerous well-groomed, well-bred, well-mannered, and intentional men. Be selfishly selective of your spouses or partners so that when you see a friend enjoying the fruits of her good decisions, you don't begin to resent your own man."
Watch the clip below,