A video of a sweet little girl instructing women on how to treat men in their families has stirred reactions online.
She reprimanded people for failing to treat their fathers and husbands with dignity and respect when serving them food.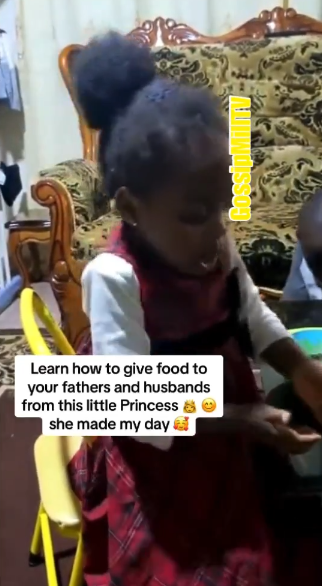 She was explaining how to be a good domestic partner to a man who is thought to be her father in the viral video clip.
The young girl asserted that it is improper for a woman to carry a plate of food intended for her father and place it on the table carelessly.
She insisted that a woman should take the meal carefully and, when she gets to the man, calmly put it on the table while genuflecting a little.
The man who was filming her praised her for the advice and called her a good girl.
Reacting to the video, netizens were amazed by the little girls knowledge and confidence and jokingly referred to her as an old woman in a child's body.
Watch the video below,