The Police in Lagos have arrested one Asabor Joel, for impersonating Senator Andy Uba with the aim of defrauding unsuspecting victims on Facebook.
Police sources said the suspect had smartly opened a facebook account with the Senator's photograph and entered into chats with unsuspecting job seekers where he allegedly asked them to pay certain amount of money to be able to secure employment in one of the oil companies.
It was gathered that the arrest which was effected on Monday, June 18, 2018 at Oghara, Delta State by crack detectives attached to 'Area D' Command Headquarters Mushin after one Charles Asugha on behalf of one Chinelo Nnedimma petitioned the police.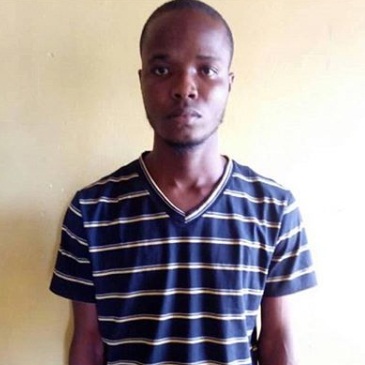 Joel successfully milked the complainant of the sum of N300,000.00. He directed her to contact another lawmaker named 'Nkiruka' for further discussion with a view to getting more money from her adding that it was based on a developing twists and turns in the whole deal that raised the suspicion of the victim.
'The petitioner alleged that sometime in December 2017, one Andy Uba who presented himself as a Senator of the Federal Republic of Nigeria, informed via facebook assured and promised her a Direct reference as the Sales Manager of NNPC so that she can obtain the requisition form of NNPC recruiting form.
He also sent a reference code via Facebook RB344/SV55700, promising the complainant that one Honorably Nkiru with telephone number 08118689670 will call her and assist her with the process of registration in securing the job. He also promised a recommendation letter to the office of the Honorable Nkiru so as to secure a job for the complainant by virtue of his recommendation as a Senator, instructing her to make sure she remitted every necessary details and information through Honorably Nkiru.
He advised the complainant to purchase the NNPC recruitment scheme form sold for N35,350 together with the processing and a three-month training the complainant needs to undergo, after which she would be paid at the end of the training and thereafter , start work at NNPC with a monthly pay of N850,000. The complainant in the petition stated that the supposed Honorable Nkiru , contacted her with the telephone number given by 'Senator Andy Uba' and allegedly collected N300,000 from her.
A breakdown of the amount collected according to her included : N38,850 paid for the form, N28,500 paid as acceptance fee, N45,850 for insurance and N220,000 for international passport. However , she stated that she became suspicious when she was told to pay additional N45,000 payment for visa" a police source said
Confirming his arrest, the Lagos State Police public relations officer, CSP Chike Oti, said the suspect would be charged to court after investigation have been concluded.