Chidubem, a graduate of Philosophy from Nnamdi Azikiwe University, Awka, who circumstances forced to start hawking garri to survive.

According to the young man who revealed in an interview that he is proud of his garri hawking business, he make at least N4500 on a daily basis.
On his Educational background;
"I am a graduate of Philosophy from the Nnamdi Azikiwe University, Awka (UNIZIK) and I graduated in 2014."
On why he ventured into the Garri business;
"I started this business after i lost my job as a result of the COVID-19 lockdown. I sell white Garri on the streets. i hawk with a wheel barrow. I decided to venture into the business because i was getting broke it moves market faster than any other products. And people must eat".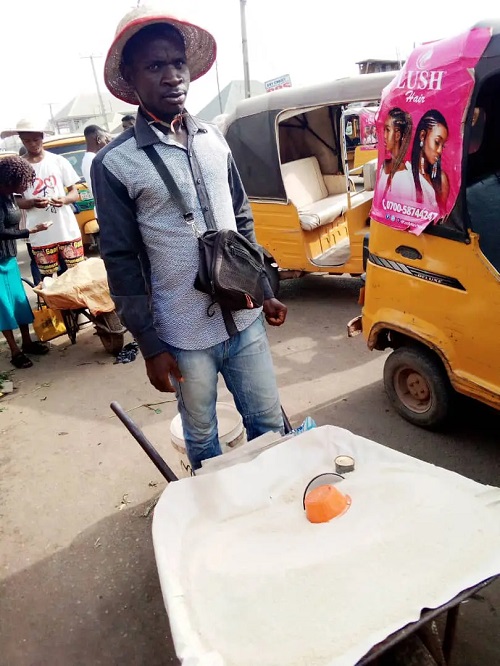 On how lucrative the business is;
"I make above #1500 after selling a bag, and depending on the market, i sell like 2 to 3 bags daily"
"I love meeting up with people's needs, hence the joy and strength to carry on. No one should despise their days of little beginning as little drops of water make an ocean".
On his challenges;
"There is no job that is easy and i have pride in what i do. I am not stealing so no need to be ashamed. The only challenge i have now is capital to boast up my business now. I am really having challenges with my capital."