Nigerians drag Noble Igwe over the tweet he posted listing major fraud fronts in Nigeria.
The list includes record labels, car sale business and online stores.
According to him, 'EFCC needs to have a waiter stationed at every club in VI and Lekki'.
Online stores and stores on Admiralty/Fola Osibo in Lekki are all used for money laundering'.
See all the reactions to his comment below: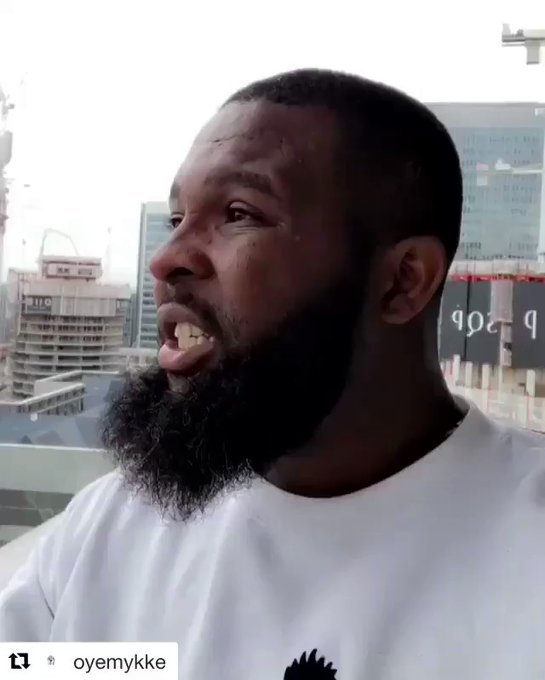 You know your Country is finished when fully grown, bearded men make videos to defend criminals and money launderers.

But lets miss the point, Noble Igwe is the enemy.

— FAVOUR ONYEOZIRI (GCFR) (@Rouvafe) May 12, 2018
The irony being that Noble Igwe is a "Fashion Ambassador" for "Payporte" owned by "Bassey Eyo" which is apparently a money laundering company that does not pay its staff. Before you shake table, be sure you're not standing on it

— AEK (@Twickta) May 12, 2018
The irony being that Noble Igwe is a "Fashion Ambassador" for "Payporte" owned by "Bassey Eyo" which is apparently a money laundering company that does not pay its staff. Before you shake table, be sure you're not standing on it

— AEK (@Twickta) May 12, 2018
Noble Igwe shouldn't be sniffing on people's pockets to know where their money came from. He should direct his rage at incompetent Nigerian Govt that don't provide jobs/enabling environment for Nigerians to thrive. He should boldly call out thieving politicians if he got BALLS!

— Tony Kanu (@TonyKKanu) May 12, 2018
Noble Igwe get mind shaa.

— Omo Toh Gbolahan (@JAYWONJUWONLO) May 12, 2018
Noble Igwe is a short man with bow legs and a receding hairline!! What do you expect? Ofcourse he has to be jealous of a guy like Tobi!! ??‍♀️??‍♀️ #bbnaija

— Shar (@shayleenker) May 8, 2018
Are you pissed because it came from Noble Igwe, who you don't like, or because it's a lie?
If we're keeping it real, there's not one single lie in that tweet & y'all would have laughed or agreed if your fav said it.

— Black Angel (@Nosablaq) May 12, 2018
Same noble igwe that will come online to troll fraud boys will be seated at a fraud boy birthday dinner and eat free food

— justdoit (@tundeglasses) May 11, 2018
Noble Igwe only tweeted something that was already public knowledge and Oyemyke's video was very distasteful. But then again, anyone can pick up a camera these days and chat shit for hits.

— ✖✖ (@Mrpayo__) May 12, 2018
How can you make such baseless allegations without proof?

Mr Noble Igwe, learn to zip your mouth when you don't have a good evidence to back your claims

This is not how to make Whisteblower money, stick to your colour riots.

— LOLA (@CuteNaija) May 12, 2018
Noble Igwe has been Noble Igwe for ages. But the day he speaks about fraudsters is the day his cup has overrun and he must be cut down to size[pun intended] for 'talking too much'. You lot are a special breed.

— Big Daddy Gersh (@__gershom) May 12, 2018
Why do we like to ignore the message and attack the messenger?

Noble Igwe made valid points. But according to Twitter, he is not entitled to his opinion.

— Wale Adetona (@iSlimfit) May 12, 2018
Noble Igwe always in the news for the wrong reasons. Angry black man lol

— Uncle Bukz (@bukz101) May 12, 2018
Not like Noble Igwe shouldn't be an excuse for defending shady characters.

The ?? music industry has been in bed with people of questionable wealth for a very long time decades. Nothing is new here.

— Wale Gates ???? (@walegates) May 12, 2018
Noble Igwe blocked me because I told him to stop bullying Ahneeka who has done nothing to him. She's just a young lady trying to make a name for herself in this industry, she didn't harm anybody. That guy is a bastard and the next event I see him, I go clear him short doubt. Fool

— HARRI OBI™ (@Harri_Obi) May 12, 2018
Noble Igwe kinda snitched & that makes him a bad person so call him out on social media.
But you NEVER advice your criminal friend behind closed doors, that the money he is stealing belongs to someone with a family. Someone who worked hard to get it.

Oh well, what do I know?!

— . (@iamVIDI) May 12, 2018