Spokesperson of the Delta state police command, DSP Bright Edafe, has taken to Twitter to tell Nigerians about what constitutes rape during sex.
Taking to his Twitter page on Tuesday, July 12, DSP Edafe said if one party withdraws consent during sexual intercourse and the other party refuses to stop, it can be termed rape and attracts life imprisonment.

According to him, ignorance of this law is not tenable in court and anyone found guilty will be prosecuted accordingly.
He tweeted,
"Do you know during sex, once any party withdraws consent, you have to stop. further penetration amounts to rape and the person can be sentenced to life imprisonment if found guilty…… ignorance of law is no excuse"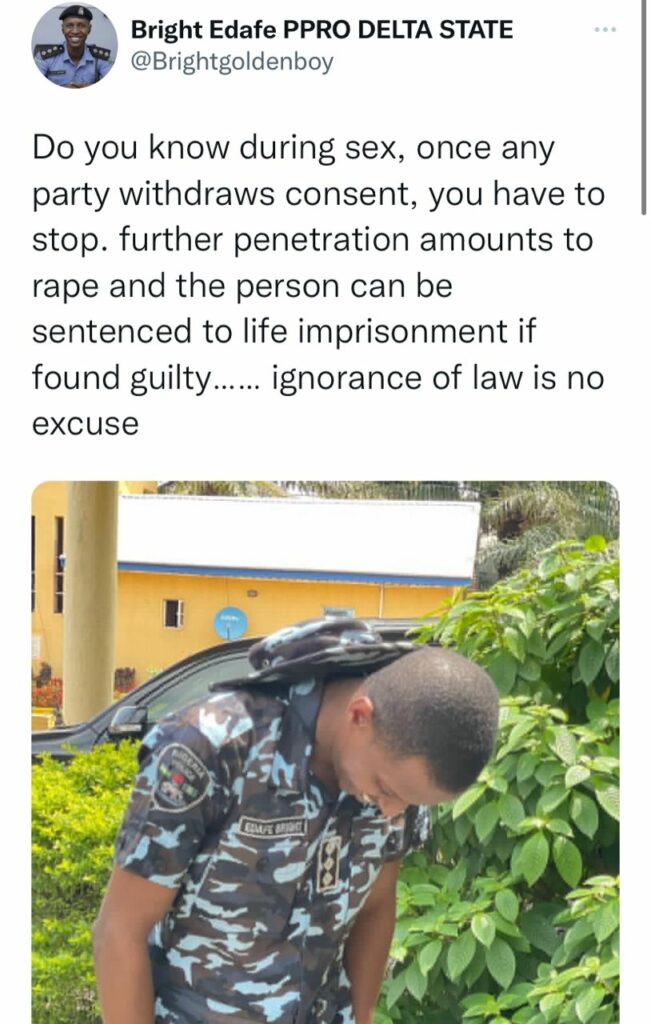 DSP Edafe recently shared the story of how an internet fraudster popularly referred to as Yahoo boy, snitched on another Yahoo boy for scamming his Russian 'woman.'
In a series of posts on his Whatsapp status, Edafe shared screenshots of his conversation with the complainant and with the Russian lady who was scammed. In the chat, Edafe advised the Russian lady to run away from the complainant who he says is pretending to be her friend as he is a scammer as well. Read here