A pretty Nigerian lady has taken to social media to brag about receiving a car as an apology gift from her boyfriend, whom she claims assaulted her.
The young lady in a video making the rounds online alleged that her man battered her, and afterwards he bought her a car to apologize.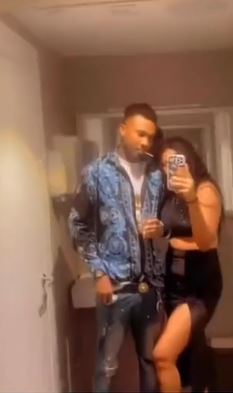 She claimed that her boyfriend, who was remorseful after the incident, bought her a car to beg for her forgiveness, and she agreed.
In the video, the couple could be seen touring the town in a car while holding hands, although it's not clear if the vehicle they were in was the one she claimed she received from him.
Sharing the video showing them all lovey-dovey, the lady captioned it, "This is the guy that beat me and he has bought me a car to beg me."
Watch video below,
In related news, the Nigerian part of Micro-blogging platform, Twitter went ago with reactions on Tuesday because a lover-boy raised the bar so high in a bid to apologize to his woman.
A Twitter user with the handle @bes_t3_ shared the picture of a young lady receiving a 10 million naira Cheque with the description "I'm sorry" and she wrote ; "The pressure is getting werrrser Who go offend me bayi".
While this may be seen as a sweet gesture that one would wish for, many other users were more concerned about the gravity of the offense that demanded such a grand gesture.
There were speculations on whether the guy was using her destiny and the 10 million apology was some form of consolation.