Nigerian singer and disc jockey, Florence Otedola, better known as DJ Cuppy, has spoken on her absence from social media following her engagement to millionaire British boxer, Ryan Taylor.
You will recall that the Gelatto crooner recently said "yes" to the love of her life after he proposed to her at a Gumball award night in Abu Dhabi.

Since the engagement, Cuppy had been somewhat absent from social media and just returned, giving her fans an update on what she had been up to and the reason for the social media break.
According to her, she has been inactive on social media, because she's been busy enjoying her real life and staying happy.
"MY DEAR CUPCAKES, SORRY I HAVEN'T BEEN ACTIVE ON SOCIAL MEDIA RECENTLY… I'VE JUST BEEN REALLY HAPPY AND ENJOYING MY REAL LIFE TO BE HONEST". She wrote.
See her post below,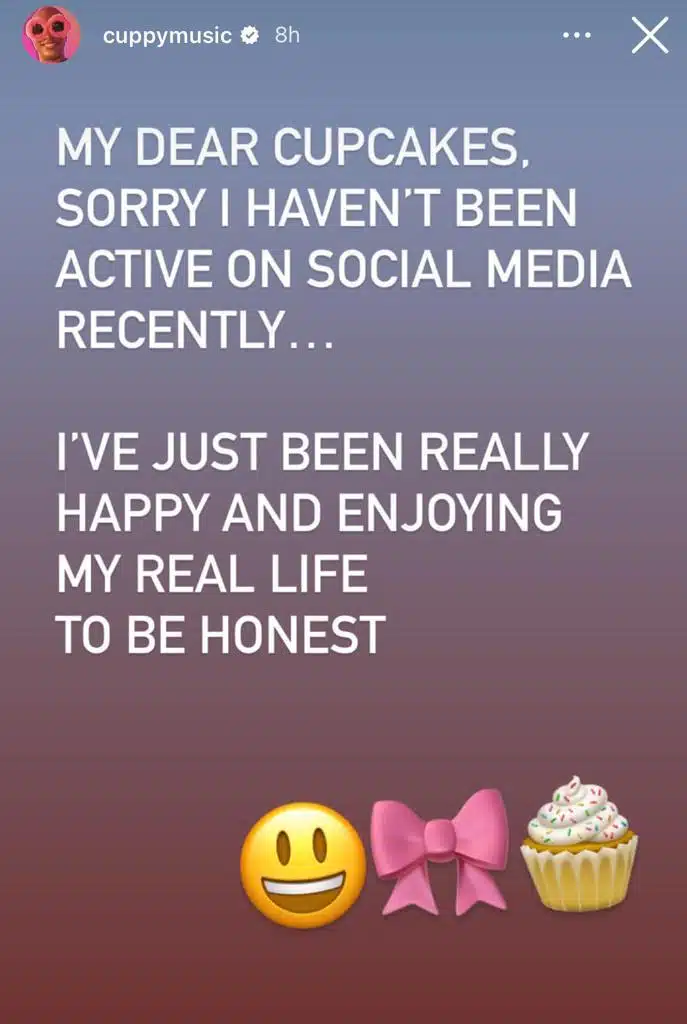 In other news, newly married celebrity couple, Frederick Leonard and Peggy Ovire, have been captured all loved up in a new video making the rounds online.
In the video, which sparked heartwarming reactions on social media, Friddie is seen playing with his wife and showering her with kisses.
Peggy was in her car, ready to set out for an appointment, when her husband, Freddie, followed her to the car and planted kisses on her body from her face to her bosom, making her unable to leave.
Peggy, while noting that she's late for the appointment, asked her husband to stop, but he refused and continued with the romantic gestures.
Freddie, who appeared to be having a good time and wouldn't stop teasing his wife, remarked that his kind of husband is rare.
Sharing the video online, Peggy captioned it, "Every damn time I'm stepping out, appointment of 10am, this man delayed me till 1pm."
Watch video here.