Nollywood actress, Lilian Afegbai has taken to her IG page to warn men who are interested in her not to come close to her if they will not be adding value to her life.

According to the actress, sex is overrated and if that is all men have to offer, they should keep it to themselves. She wrote,
Don't come around me, if you don't have your shit together, if I wasn't looking good and working hard to take care of myself. You won't want me, so if you are not coming to add value to my life and career. Take several seats, s*x is overrated.
If that's all you have to offer then keep it to yourself. We are getting older and wiser women are doing so much more that sometimes I tell myself "You can do better" so don't come to my space if you not going to add value….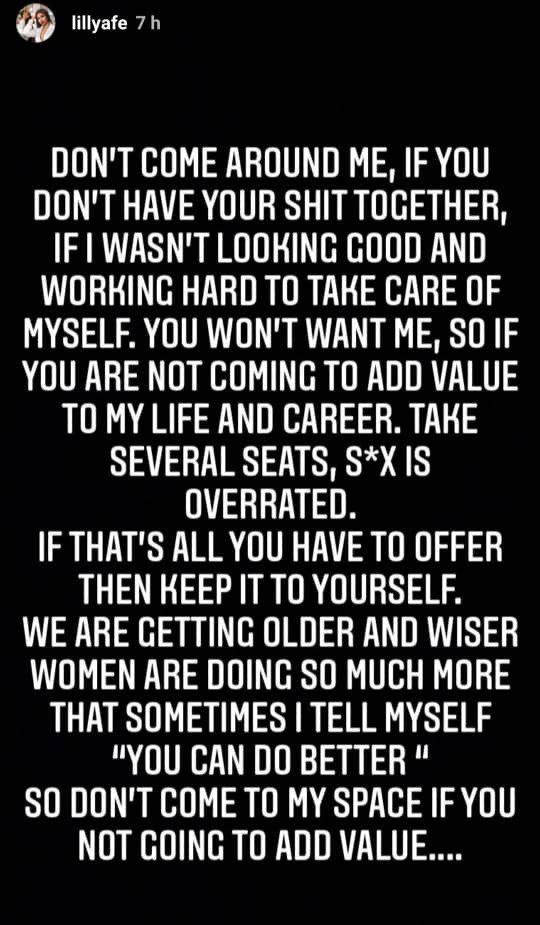 A while back, she lambasted men who are comfortable with women paying their bills.
In a post shared on Instagram story, she described men who take advantages of financially buoyant ladies and later settle down with ladies of their class as a "vegetable".
Her post read,
"I can never understand a woman that pays a man's bill. It's different if you guys are married and things go bad where you have to step in and help till he get back on his feet.

"But paying his rent and all, men have pride they will carry your money and give to that girl who would respect and appreciate them for the little they do… A man who's comfortable with a woman paying his bills is a vegetable".

"No matter how much you think a woman has, as a man you should take care of her no matter how little you can afford. That's you keeping your pride".