"Nah only me and three other people dey normal for this Lagos", "Nah agbero full Lagos", "this same Lagosians go abroad and obey traffic rules there" — all these and more were the reactions of netizens on Twitter after seeing this photo that was shared on the platform.
In the photo, which was clearly taken at the Lekki toll gate, two vehicles are seen in a rather bizarre position as they both tried to pass through a toll gate at the same time.
Judging from the photo, it's possible that either drivers wasn't going to pave way for the other to pass through and as such, both caught themselves in a jam.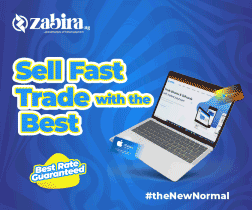 The photo caused people to react in ways that suggest that most people residing in Lagos seem to be out of touch with their sanity.
Here's how some of them reacted,
Still saying it, an evening show called "Mad in Lagos" or anything really would bang.

Just compile everything, slam some funny commentary, make your money.

Cos tbh, I won't mind paying to see the video of how this end😭😭

— Ysidro (@TheDavidOlasupo) January 14, 2021
Volkswagen: "Do you know who I am?"

Rav: "Who are you?! Do you know who my father is?"

VW: "You're mad. Come and pass now."

Rav: "Your father. Oya now, let's see"

VW: "if you brush me! Hennnn"

Rav: "You better wait! I'll brush you o"

VW: "Were ni ele yi sha"

*Revsss* Boom!

— BabyBoyCEO (@BabyBoyCEO) January 14, 2021
na only 3 sane people dey this lagos, me and 2 other people.

— ° (@duketakesoff) January 14, 2021
My hypothesis – When the total number of Nigerians in close proximity exceeds a particular number, there is this invisible force that is ignited. This leads to a chain reaction. Even abroad, once your are boarding a flight back to Nigeria, u begin to see it at the check in gate

— The Nigerian Tech Lover (@baps4life) January 14, 2021
Where can we delete this country on the map 😂😂😩

— ☕️ (@Mo__baby) January 14, 2021
Bus: na me first enter

Car: na me first you enter

Car: I must pass first

Bus: first you so na me go Pass

Accident Sound: Skrrrrrr Gbishhhhhhhhhhhhhhhhhhhhhhh

2 egunguns forgot they were on the Express

— Odogwu🤴 (@Daddy_Nomso) January 14, 2021
Survival of the fittest😂 pic.twitter.com/XO5l1dFVFp

— Ifealailegbe (@ifealailegbe) January 14, 2021
This's Nigeria, anything you see, take it like that.

— 𝙄𝙣𝙣𝙤𝙘𝙚𝙣𝙩 🔴 ­­­ (@Master_inno) January 14, 2021
Na agbero full Lagos

— *TopBoy*#ENDSARS (@blueetin_) January 14, 2021
Only in Lagos
😂😂😂😂

— futureMum (@abbey_ego) January 15, 2021
On today's episode of "You go know say I be mad person"

— Tolulope 🇳🇬 (@bada_mass) January 14, 2021
😹 😹 I don see something like this for THAT chevron Toll gate..

And na these buses be major culprit.. 😂 😂

— Ayo-oluwa Obafemi (@quietparrott) January 14, 2021