Celebrity stylist, Jeremiah Ogbodo popularly known as Swanky Jerry said the amount he was paid to style Fatima Dangote and husband Jamil Abubakar.
He said the amount of money he was paid was so much that if he reveals it, people will tag it as bragging.
Taking to his Instagram page this morning, the fashion entrepreneur posted a thank you tweet by Jamil Abubakar and wrote: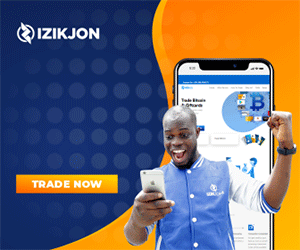 "If I say how much I was paid on this job now people will say I'm bragging…… but hey it was my pleasure …… #famil2018 NOTE THAT I WAS PAID MORE THAN ENOUGH TO FLY IN THE BIGGEST HOLLYWOOD STYLIST SO MUCH MORE .. MUCH MORE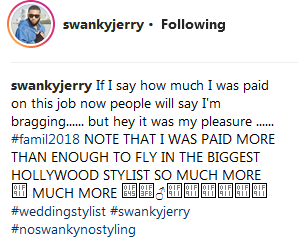 Recall that the couple had a 6 part event which held in Abuja, Kano and Lagos.
Fatima who is the daughter of the Aliko Dangote looked so beautiful in her white wedding dress.
The groom who is also the son of the former Inspector General of police also looked dapper in his Tuxedo.
See here for photos from the wedding.