Gay rights activist and writer, Bisi Alimi is of the opinion that there is nothing spiritual about coitus.

He stated this in a post he shared on his Instagram story on Wednesday, February 9, while advising his followers ahead of Valentine's day.
According to him, people should not allow anyone "dull their cruise" with such claims that sex is spiritual. He further advised them to have sex responsibly.
Bisi wrote,
"There is nothing, absolutely nothing spiritual about sex.
Don't let anyone lie to you and dull your cruise.
Just fuck responsibly!"
See below,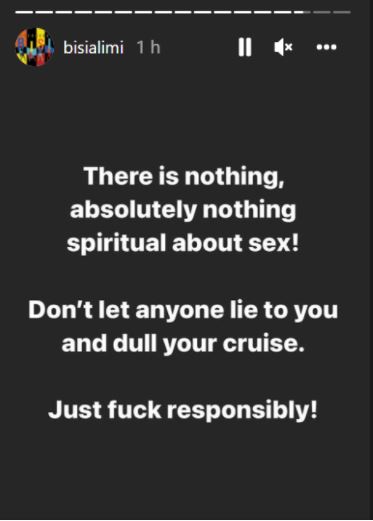 A while ago, Bisi Alimi sparked outrage on social media over a controversial post he shared on his official Instagram page about God.
The openly gay activist had claimed that there is no solid evidence to back the existence of God but Africans blindly believe there is God. However, there are numerous evidence of slavery and importation of Christianity, but Africans don't care about it.
Taking to his Instastory, Bisi Alimi wrote, "There is no single evidence of God but Africans believe it. We have numerous evidence of slavery, and importation of Christianity, But Africans don't care". Read here