A Nigerian TikTok star based in Los Angeles, US, was left heartbroken after hosting a meet and greet event but no one showed up.
The young lady identified as @Grace_Africa on Tiktok, has over 1.3 million followers on the video-sharing platform where she posts funny videos.
She decided to throw a meet and greet event to meet some of her followers but sadly nobody deemed it fit to show up.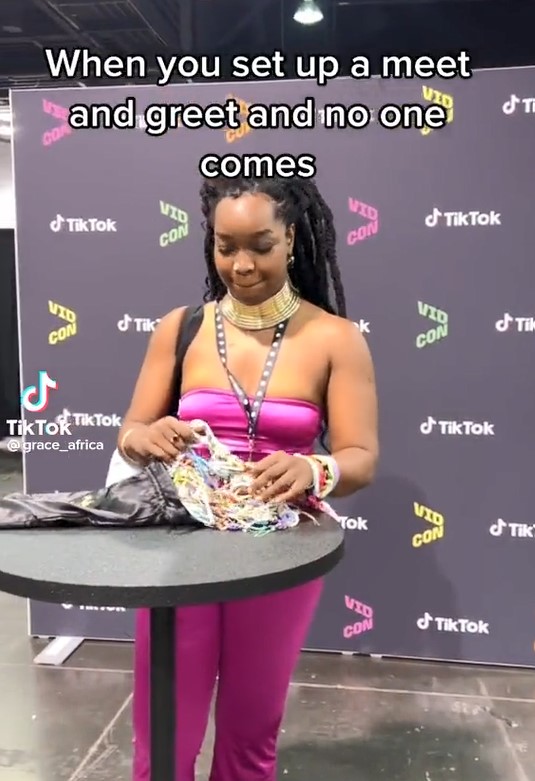 In a video shared online, she is seen waiting at the venue and brought waist beads as souvenirs for her female fans but sadly nobody came to her booth.
Grace who almost broke down in tears, shared another video of the phone conversation she had with her mother after the 'failed' meet and greet.
Watch the videos below,
Grace has gotten a lot of public sympathy since she shared the video online as people tried to console and encourage her with kind words.
See how some reacted below,
@kingwole wrote,
"That had to be such a shitty feeling, poor girl. This internet thing doesn't make any sense sometimes, you'd expect at least 50 people.
She is sooo brave for putting it out there cause I'd have gone underground for a month or two."
@odogwu_nomso wrote,
"You just know that this will be a turning point in her career, people are gona wana start wanting to meet her outa pity for this."
@miggbondz wrote,
"Ppl still ain't realize that internet shit is just internet shit … followers on social media don't mean real life support."
@officialnedah wrote,
"Really just shows you no body really cares…… you are just an entertainment on their phones for when they are bored and will most likely remain so!"